This book has been on my want-to-read list for a few years now, after having watched the movie years ago. Weeks ago I was in the mood for a historical fiction novel and finally decided to pick it up (I have the version with the cover below (which is awesome, the cover's very intriguing); then I went to the bookstore yesterday and found out that the Vintage Classics version came out xD). I didn't get around to reading it until I came back from my (surprise!) trip home last weekend.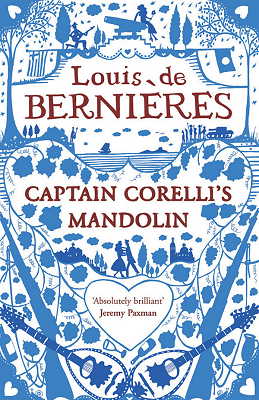 Captain Corelli's Mandolin
By: Louis de Bernieres
It is the salad days of the Second World War and Captain Antonio Corelli, a young Italian officer, is serving out his time as part of the occupying forces on the Greek island of Cephallonia. While the war is raging, things seem awkwardly serene from his agreeable posting, as Corelli is a kind, conscientious man who wants nothing more than peaceful war. A consummate musician, he passes time plucking his mandolin and courting the daughter of a local daughter. Just as their love begins to bloom, the intensity of the war is turned up, bringing the savagery within a heartbeat of the island.
Now, I've read a lot of books set in World War Two, but I've never read anything set in the Balkan front of the war. In fact, I've only read two other books (that I can recall) that even take place in Greece (Victoria Hislop's The Island and Byron Ayanoglu's Crete on the Half Shell) so this was an interesting read for me. But anyways, I finished reading it and I have to say, I loved it a lot more than I initially thought I would!Spoilers ahoy!