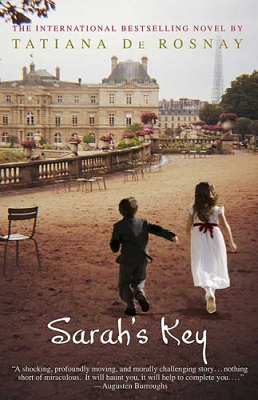 Sarah's Key
By: Tatiana de Rosnay
Paris, July 1942: Sarah, a ten year-old girl, is brutally arrested with her family by the French police in the Vel' d'Hiv' roundup, but not before she locks her younger brother in a cupboard in the family"s apartment, thinking that she will be back within a few hours.

Paris, May 2002: On Vel' d'Hiv's 60th anniversary, journalist Julia Jarmond is asked to write an article about this black day in France"s past. Through her contemporary investigation, she stumbles onto a trail of long-hidden family secrets that connect her to Sarah. Julia finds herself compelled to retrace the girl"s ordeal, from that terrible term in the Vel d"Hiv", to the camps, and beyond. As she probes into Sarah"s past, she begins to question her own place in France, and to reevaluate her marriage and her life.
This book has long been on my to-read list but I didn't get around to picking it up sooner. Part of it was because I needed to emotionally prepare myself for it, if that makes any sense; this novel deals with the Holocaust, which is always a dark and painful subject no matter what medium it's in. Prompted by a conversation with my friend and knowing that a movie adaptation starring Kirsten Scott Thomas was coming out, I finally mustered up enough courage to read it. MAJOR SPOILERS ahead!