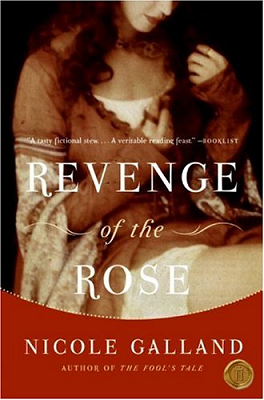 Revenge of the Rose
By: Nicole Galland
Impoverished young knight Willem of Dole believed he would spend his life in rural Burgundy, struggling to provide for his widowed mother and younger sister, Lienor. And so it's with surprise–and apprehension–that he obeys a summons to the magnificent court of Konrad, Holy Roman Emperor, whose realm spans half of Europe. Willem's mischievous friend Jouglet, Konrad's favorite minstrel, is no doubt behind it somehow . . . but what's in it for Jouglet?

Court life is overwhelming to the idealistic young Willem, who is shocked by the behavior of his fellow knights, for whom chivalry is a mere game. Yet under Jouglet's witty, relentless tutelage, the naive knight quickly rises in Emperor Konrad's esteem–until suddenly his sister, Lienor, becomes a prospect for the role of Empress. This unexpected elevation of the sibling "nobodies" delights Jouglet, but threatens three powerful–and dangerous–men who hold influential positions at the royal court fueled by gossip, secrets, treachery and lies.
Hehe, I honestly picked this book up on a whim; I recognised the author from another book that I added on my never-ending want-to-read list (The Fool's Tale). The book piqued my interest because the novel is set during the period of the Holy Roman Empire, one of those subjects you don't often read about unless you're really studying the period. It also combines the trend of courtly love/notions of chivalry with the politiking of the time, themes that also fascinated me.