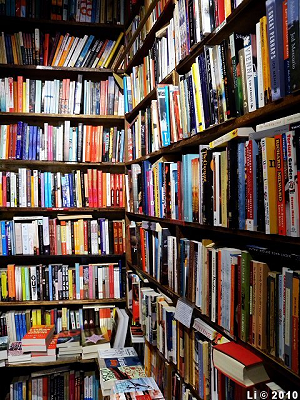 My shot inside the Shakespeare & Company bookstore in Paris, France (August 2010)
I'm in the midst of writing my political science paper on the Basques in Spain but I'm also multi-tasking with skimming through the Guardian. The Guardian is doing a series at the moment, focusing on one European country each week. One of spheres they covered are books and so far they've covered the following places:
These podcasts are fantastic to listen to because you learn a lot about the literary and bestselling trends in these countries. I'm still listening to the Germany podcast but they've also discussed German identity and culture, which is totally up my alley xD Their trends are actually pretty close to North America (vampires are big, international bestsellers are also big but then you have massive tomes on history and the current state of Germany and a lot of health-related books), which is interesting. The podcast on French literature was also fantastic because their literary culture is so different; in a sense, the sort of culture of Voltaire and Rousseau has continued to the present day with the French public's love of essays. Prices and sales of books are also quite different from the UK or North America (they have a fixed rate) and just the volume and types of books that people read are also very different. So if you're into European literature and book trends, these podcasts are worth checking out.
This week the Guardian is focusing on Spain, which is exciting because a) I'm writing a paper on them at the moment, b) Spain fascinates me in general and c) I love Spanish literature and poetry (Carlos Ruiz Zafon, Federico Garcia Lorca, etc.) <3