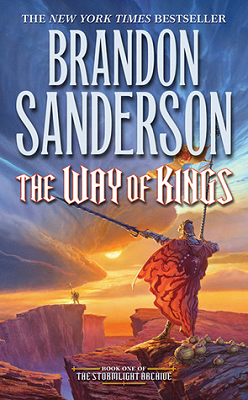 The Way of Kings (The Stormlight Archive #1)
By: Brandon Sanderson
Format/Source: Mass bound paperback; my copy
Roshar is a world of stone and storms. Uncanny tempests of incredible power sweep across the rocky terrain so frequently that they have shaped ecology and civilization alike. Animals hide in shells, trees pull in branches, and grass retracts into the soiless ground. Cities are built only where the topography offers shelter.

It has been centuries since the fall of the ten consecrated orders known as the Knights Radiant, but their Shardblades and Shardplate remain: mystical swords and suits of armor that transform ordinary men into near-invincible warriors. Men trade kingdoms for Shardblades. Wars were fought for them, and won by them.

One such war rages on a ruined landscape called the Shattered Plains. There, Kaladin, who traded his medical apprenticeship for a spear to protect his little brother, has been reduced to slavery. In a war that makes no sense, where ten armies fight separately against a single foe, he struggles to save his men and to fathom the leaders who consider them expendable.
I first read this book in 2012 (review. Of all of Brandon Sanderson's books that I had read to date, it was actually my least favourite. It still contained everything I loved about his writing and his storytelling but it felt dense, bogged down and stretched out at times that compared to his other novels, I actually zoned out at times. I thought maybe a re-read would change my opinion of the book; maybe there was something I was missing, maybe I just wasn't in the mood for a sprawling epic at the time. Anya then gave me the heads up late last year that she and another blogger were planning a Way of Kings read-along and thought now would be a good time to re-read the book, especially with the second volume in the series coming out shortly. And here we are 🙂 Spoilers ahead if you haven't read the book!
This book is part of the A Year in Re-Reading: a 2014 Reading Challenge that I am participating in.