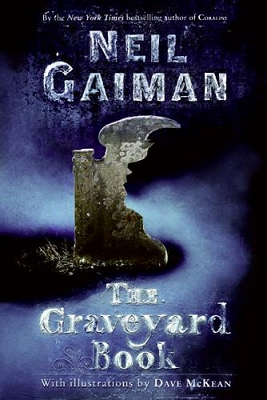 The Graveyard Book
By: Neil Gaiman
It takes a graveyard to raise a child.

Nobody Owens, known as Bod, is a normal boy. He would be completely normal if he didn't live in a graveyard, being raised by ghosts, with a guardian who belongs to neither the world of the living nor the dead. There are adventures in the graveyard for a boy: an ancient Indigo Man, a gateway to the abandoned city of ghouls, the strange and terrible Sleer. But if Bod leaves the graveyard, he will be in danger from the man Jack—who has already killed Bod's family.
This book has pretty much been in my radar since I first heard that it was being released a few years ago. I've already read a few of Gaiman's books and it's always guaranteed to be interesting and unique. For some reason it took over two years before this book came out in the small, $9 paperback, and when it did it took a bit longer before I got around to picking it up. But I finally have and here we are. Some Spoilers Ahead!