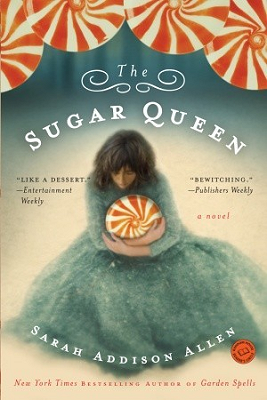 The Sugar Queen
By: Sarah Addison Allen
Josey Cirrini is sure of three things: winter is her favorite season, she's a sorry excuse for a Southern belle, and sweets are best eaten in the privacy of her closet. For while Josey has settled into an uneventful life in her mother's house, her one consolation is the stockpile of sugary treats and paperback romances she escapes to each night…. Until she finds her closet harboring Della Lee Baker, a local waitress who is one part nemesis—and two parts fairy godmother. With Della Lee's tough love, Josey's narrow existence quickly expands. She even bonds with Chloe Finley, a young woman who is hounded by books that inexplicably appear when she needs them—and who has a close connection to Josey's longtime crush. Soon Josey is living in a world where the color red has startling powers, and passion can make eggs fry in their cartons. And that's just for starters.
This is the last of Sarah Addison Allen's books that I had not read yet and once again she has put together such a story that left me awake until the wee hours of morning reading to see how everything will turn out =P Contains some spoilers ahead!