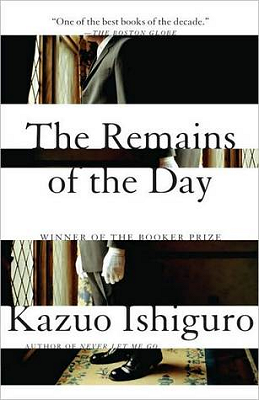 The Remains of the Day
By: Kazuo Ishiguro
It is the summer of 1956 and Stevens, an aging English butler, embarks on a holiday that will take him deep into the countryside and into his past. For the first time in three decades, Stevens looks back on his long life of service and finds himself confronting the dark undercurrent in the life of his previous employer, Lord Darlington, and his own conflicted relationship with the housekeeper, Miss Kenton.

A contemporary classic, The Remains of the Day is Kazuo Ishiguro's beautiful and haunting meditation on life between the wars, love denied, and the high cost of duty.
I actually read this book some three years ago but I decided to re-visit it (as part of my great re-readathon this year), especially as I've been (every so slowly) watching Downton Abbey lately. Contains some spoilers ahead!