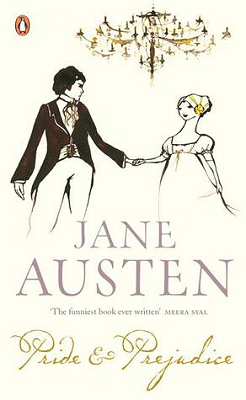 Pride and Prejudice
By: Jane Austen
When Elizabeth Bennet first meets eligible bachelor Fitzwilliam Darcy, she thinks him arrogant and conceited, while he struggles to remain indifferent to her good looks and lively mind. When she later discovers that Darcy has involved himself in the troubled relationship between his friend Bingley and her beloved sister Jane, she is determined to dislike him more than ever. In the sparkling comedy of manners that follows, Jane Austen shows the folly of judging by first impressions and superbly evokes the friendships, gossip and snobberies of provincial middle-class life.
I first read this book back in high school for my grade 11 english course. It was the assigned book for our independent study essay so at the time I just read it and didn't think much of it. When the 2005 movie came out, I decided it was time to re-read it; that time around, I absolutely enjoyed it, understood it better and was pretty much ecstatic to check out Austen's other works. It's been a while since I've re-read it and after reading a number of Georgette Heyer's novels, I decided to go back to it.
As you noticed, the title of this post is "commentary" rather than "review" because I'm not formally reviewing this novel like other books. I am instead just commenting on a few things I noticed during my re-read this time around. CONTAINS SOME SPOILERS AHEAD!