So You Want to Read… is a monthly feature here on eclectictales.com in which I recommend books by particular authors to readers who have never read a book from certain authors and would like to start. I'm always happy to recommend books and certain authors to my fellow readers and bloggers! 🙂
Another month, another edition of "So You Want to Read…" This month I decided to focus on Marina Fiorato and her bibliography; I don't know if it's because the first time I travelled to Italy it was summertime but her books seem to be perfect to focus on these summer months. I forgot how I first encountered her books–it must have been during one of my searches for historical fiction set in Italy–
If you're interested in reading her books for the first time, here's my recommendations on where to start: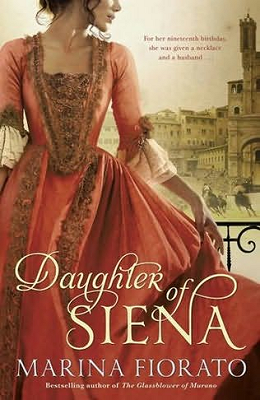 The Daughter of Siena (review) — Also happens to have one of my favourite book covers ever, but anyway, I think The Daughter of Siena is a great starting point if you're curious to check out her books: lots of intrigue, fascinating city and culture and history (every Italian city has its quirks and its own unique history, and Siena definitely fits the bill on all of this), interesting characters, lots of conflict and tension and overlapping interests. Quite the page turner.
The Venetian Contract (review) — Another fascinating and informative novel from Marina Fiorato. I only visited Venice once and while I thought I knew enough of the basics of what went on there during the early modern period/Renaissance/at its height, I learned so much more about Venice and its situation in the 16th century, and especially its relations with the Ottoman Empire. I admit, the primary interest why I wanted to read this book was because the architect Andrea Palladio was featured here (he's known for a number of architectural buildings he constructed in the period, many of which you can see in Vincenza) and his presence certainly didn't disappoint here.
Beatrice and Benedick (review) — If you love the Shakespeare play Much Ado About Nothing (review) then you should check out this book. It puts Beatrice and Benedick's story in a more historical setting and while I quibbled that perhaps she drew a bit too much directly from the play in terms of dialogue, it's still a lot of fun to read, not to mention a different setting in Italy (Sicily this time).


I hope this list helps if you're interested in reading something by Marina Fiorato for the first time! If you've read her books, which one is your favourite? Which would you recommend for first-time readers? Or which books have you been meaning to get around to reading? Let me know, I'd love to hear from you! 🙂