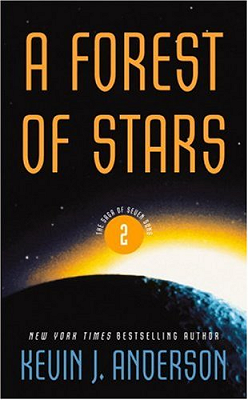 A Forest of Stars
By: Kevin J. Anderson
Five years after attacking the human-colonized worlds of the Spiral Arm, the hydrogues maintain absolute control over stardrive fuel…and their embargo is strangling human civilization.

On Earth, mankind suffers from renewed attacks by the hydrogues and decides to use a cybernetic army to fight them. Yet the Terran leaders don't realize that these military robots have already exterminated their own makers – and may soon turn on humanity. Once the rulers of an expanding empire, humans have become the galaxy's most endangered species. But the sudden appearance of incredible new beings will destroy all balances of power.

Now for humans and the myriad alien factions in the universe, the real war is about to begin…and genocide may be the result.
A Forest of Stars is the second installment in Kevin J. Anderson's Saga of Seven Suns that started with Hidden Empire (review). It was one of the best science fiction novels that I've come across in recent years, feeling more akin to the epic scope and fast-paced adventure and suspense of Babylon 5 or the re-imagined Battlestar Galactica. I know it'll be a while before I can complete the series but I couldn't help but pick up this novel recently; I had to find out what happened to all of the characters. May contain spoilers!