So I'm in one of those moments where the next deadline is a little while away so I have a bit of space and what do I do? I watch a movie *thud* I recently filled out an Oscars meme and realised there were a few movies I've been meaning to get around to but haven't; Gosford Park is one of them.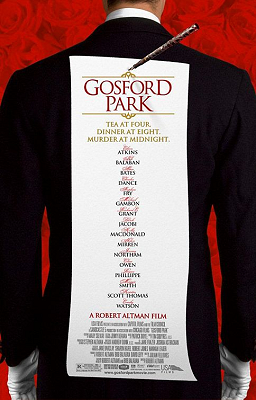 The film is set in 1932 at an English country house. A party of wealthy Britons and Americans accompanied by their servants gather at the home of Sir William McCordle for a shooting weekend. A murder occurs in the middle of the night, the film presenting the murder from both the servants' and the guests' perspective. But rather than a simple mystery to be solved, the film uses the whodunit format to create a drama showcasing the tensions of the British class system. Many intertwining subplots detail the complex relationships among the characters, both above stairs (the wealthy guests) and below (the servants).
Major Spoilers Ahead!