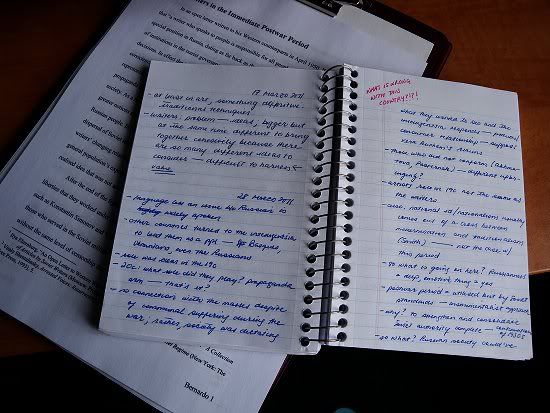 (this photo is actually thesis-related rather than NaNoWriMo-related but I thought it was fitting nonetheless)
!!!!!
Yeah, that's pretty much my reaction right now (well, since last night actually; I had class this morning and stuff to take care of so I haven't exactly written today). According to my stats, I am 5 970 words away from crossing the finish line, which is pretty crazy! I actually had this major spurt of writing drive the other day and wrote a whopping 4 000+ words in about an hour and some, which is pretty massive!
However, this does not mean that my story done, nor do I think it will be done in aobut 6 000 words. As you may recall, I had divided my novel into 6 parts; I am now at the beginning of the last part but I had to skip over the flashback (or flashforward, depending on how you want to view it) of part five because I was more concerned with getting through the plot and resolving it. Of course I'll have to go back and incorporate it in afterwards because it's important to fleshing out the mystery and a lot of the timeline issues then. Despite the fact that I'm almost done word count-wise, it's resolving the issue that remains at the heart of my novel that's the central challenge for the next few days. We'll see how this works out.
Also, it was rather weird writing the fourth part of the novel from another character's perspective rather than my main character's. I guess it's another reason why I'm so adamant to get back to part 5, because she's the titular character there (as well as part 6 to the end, but I missed following her in part 4).
In the meantime, I have written about 1 and a 1/2 lengths equivalent to my MA thesis (about). Crazy, huh?