I usually post these sorts of updates at the end of the month but the following is one piece of news that warrants an early announcement (I will post a reminder at the end of the month and before it happens next month):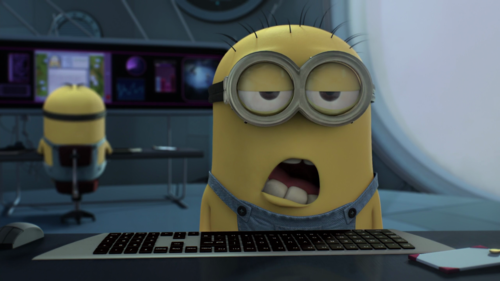 (Not my cap and lol, my news is much more exciting than this minion's expression. I just chose it because he's in front of a computer =P)
I think I hinted a few months ago that I was thinking of some changes here at my domain. After considerable thought, I've decided that I will be changing my domain name/url. Starting sometime in February, the url to (and the name of) this domain change to caffeinatedlife.net. It was a bit of a difficult decision to make because rulethewaves.net has been the name of this place for the past 6 years and, random piece of trivia here, reflected my interest in British naval history (in a way I am still interested in the subject but alas, chose not to pursue it at the graduate level in the end).
Meanwhile caffeinatedlife.net reflects more of who I am (well, definitely my lifestyle hahaha) and I want that sort of personalisation on my website as well (since my username in most places is 'caffeinatedlife' or some variation of it; sadly it was taken already on Twitter so I opted for the Italian translation (as close as I could get it) =P).
While the transition will be pretty immediate, I anticipate that it will take me a few days to get the site readjusted with the new domain, especially with broken image links and links to reviews between entries and such (yeah, those will take some time…if at all). Also, worse case scenario should I fudge up the WordPress transfer *blushes* In the event of the latter, please check out/follow me in the following to get up to date information:
So that's the upcoming major change that's going on around here. Again I will make another post about the name change so that you won't be confused and will be able to change RSS feeds and whatnot =)