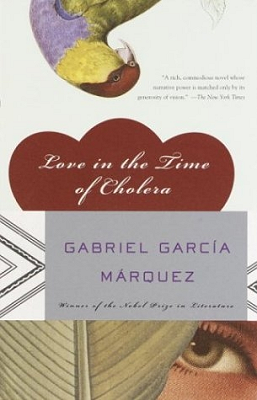 Love in the Time of Cholera
By: Gabriel Garcia Marquez
I bought this book back in December but never got around to reading it until February. This is the first book I've ever read by him (though I did hear of his other book, One Hundred Years of Solitude) and with a movie made basedon the novel, I figured to check it out. It's a wonderul book that starts off with the main characters in their twilight years before going back and retracing the beginning of their romance and the course of their lives before returning to the moment depicted at the beginning of the novel and then its aftermath. It must have been a daunting task to retrace a half-century of the lives of Florentino Ariza, Fermina Daza and Dr. Juvenal Urbino, a task that is truly impressing. The plot itself is very simple, the case of a love triangle and the question of security, the nature of true love and steadfastness. Social issues are also mentioned in this novel, set in South America over the course of the later half of the 19th century. Marquez's prose is wonderful, you get a sense of the environment and the times that these characters lived in. At times I found myself relatively unsympathetic towards Florentino and Fermina and their actions and behaviour and surprisingly found myself sympathetic to Urbino at times. The ending of the novel was also a bit depressing to me, a commentary on the course of life and the nature of old age. But I believe the plot was good enough to keep you going, the scope is impeccable even if the characters can be startling at times.
Rating:
Visit Gabriel Garcia Marquez @ The Modern Word || Order this book from the Book Depository