So You Want to Read… is a monthly feature here on eclectictales.com in which I recommend books by particular authors to readers who have never read a book from certain authors and would like to start. I'm always happy to recommend books and certain authors to my fellow readers and bloggers! 🙂
And here we are, another edition of "So You Want to Read…" 😀 For this month I decided to feature Kate Mosse. I've slowly gotten around to reading her historical fictions over the years; hers are very distinct as they focus much on southern France in the Carcassone region. I've never travelled to the area but much of what I learned of it was through her books. Anyway, I finished reading all of her books on her bibliography earlier this year so here we are, me recommending to you wehre to start with her books 😉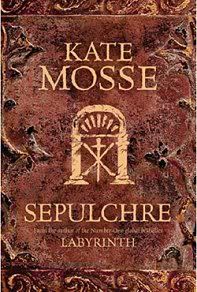 Sepulchre (review) — This was actually my first Kate Mosse novel and it continues to be the book I recommend first. I found this book to be absolutely atmospheric, haunting and mysterious with the tarot cards, the location, the family dynamic, the music, and the danger circling around the siblings. Set in the late 19th century France, I highly recommend this novel to readers who enjoy reading novels set in that period.
The Mistletoe Bride & Other Haunting Tales (review) — It was a toss-up between this and The Winter Ghosts (review) but this book won out by a bit because it's an opportunity to get a sampling of what her stories are like if you're hesitant to delve straight into her two standalones or the Languedoc trilogy. Lots of ghost stories, stories of memory and loss, but not all of them are set in a historical period. And because they're short stories, it's also a nice change of pace from the usual novel-length books 🙂
The Taxidermist's Daughter (review) — Last on my list of Kate Mosse recommendations is her latest novel. What I like about this novel is that it's more straight-up mystery than ghost story/historical novel; the ghosts in this novel lies in the main character's memory, a deadly secret in another character's past. It's a much slower burn, I admit, but I grew further intrigued the more the mystery winds up and the more we learn about the characters.


I hope this list helps if you're interested in reading something by Kate Mosse for the first time! If you've read her books, which one is your favourite? Which would you recommend for first-time readers? Or which books have you been meaning to get around to reading? Let me know, I'd love to hear from you! 🙂



Tags: