Top Ten Tuesday is an original feature/weekly meme created here at The Broke and the Bookish. This meme was created because we are particularly fond of lists here at The Broke and the Bookish. We'd love to share our lists with other bookish folks and would LOVE to see your top ten lists!

This week's topic: Ten Books To Read If You Are In The Mood For X
Oooh, yay, an open-ended topic this week *rubs hands* Well, I recently read a book that left me rather grumpy and frustrated (good book, but omg, the feelings it left me with), which got me thinking about this week's TTT. So I decided to go with Ten Books To Read If You Are In The Mood For Something Light/Different After a Heavy Read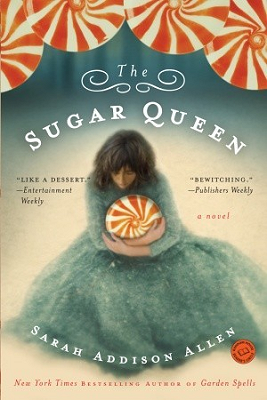 In no particular order:
Something by Julia Quinn (see author tag) — One of my favourites from the historical romance genre, she's easily an author I'd turn to for something light. Her books are also on the funny side of the genre, so that's a bonus! 😀
Something by Sarah Addison Allen (see author tag) — A long-time favourite of mine, definitely an author I turn to when I need something comforting after a strenuous or frustrated read. I haven't read First Frost yet but her books have not disappointed me. Also, it might be all the food mentioned in the book (characters often have a sweet tooth or happen to be quite the baker) but I find her books very sweet and fluffy too xD
Guards! Guards! by Terry Pratchett (review) — I love all of the Discworld novels I've read but this one has to be the funniest I've read to date. The Night Watch is in tatters, Sam Vines just wants it to be respectable, a dragon is on the loose, the Patrician is in this…What more could I ask for?
Persuasion by Jane Austen (review) — It's always nice to turn to a favourite read when you are in the need to lighten your mood. In my case: Jane Austen's Persuasion 🙂
The Hitchhiker's Guide to the Galaxy by Douglas Adams — If you're having a rough day, well, there's Arthur Dent. The Earth is set for demolition to make way for a super galactic highway and he ends up to be the last human alive on board a ship with a bunch of strangers. And he has a headache…
The Paradox trilogy by Rachel Bach (see author tag) — Sometimes a kick-ass heroine is what you need to read about after a tense read. Look no further than Dev Morris, merc for hire, who only wants to kick ass and be the best to join the elites and ends up getting caught up in some crazy stuff.
The Eyre Affair by Jasper Fforde (review) — Or a mystery with lots of literary references, offbeat humour, and a mash-up of a whole ton of genres and elements is something you need to cure the heaviness after a tense read. Also in the vein of Terry Pratchett and Douglas Adams, this book was hilariously fun, and Thursday Next is awesome.
Cotillion by Georgette Heyer (review) — Anything by her, really, but there are some of her historical romances were a lot funnier than others. Like Cotillion: crazy premise meets crazier plot to resolve premise leads to absolute mayhem. I remember laughing quite a bit alongside the madness of this book.
The J'Adore series by Isabelle Lafleche (see author tag) — For the more stylish end of the bookish spectrum, there's the J'Adore series, mixing together high fashion with the law 🙂
Redshirts by John Scalzi (review) — Are you a fan of Star Trek? Noticed how all the redshirts get killed off first? Yeah, read this book. It's pretty nutty what happens there, perfect to keep your mind off of heftier matters.


And that's my list for this week! What books do you read or turn to when you finished reading a frustrating or heavy read and are in need of something lighter? What theme did you feature for your TTT this week? Let me know, I'd love to check it out 🙂



Tags: