Ten Things I Love About You (Bevelstoke #3)
By: Julia Quinn
Format/Source: Mass market paperback; my purchase
Annabel Winslow is in a pickle. Having newly arrived in London for her first season and being in possession of a voluptuous figure, is being openly courted the the Earl of Newbury, who is at least 75 and a nasty brute to boot. Annabel does not want to marry him, of course, but feels that she has no choice since her father has recently died and left the whole family, including Annabel's mother and her 7 siblings, almost destitute.

Then, while attending a party in the countryside, Annabel met Sebastian Grey, the Earl of Newbury's nephew. And suddenly she found herself not only courted by the lecherous uncle, but also the charming young nephew. Should she follow her heart so that she can be with the one she loves, or should she marry the loathsome earl just so she can put food on the table for her family and make sure that her brothers get to stay in school?
I've been going back and forth whether or not to read this book. The premise was interesting (the mass market paperback has a cute little blurb to go with this that matches the title) but yeah, the reviews were pretty mixed. I needed some light reading and have come to turn to Julia Quinn recently for a pick-me-up so I decided to pick up this novel and read it for myself 🙂
Gosh, how amusing was this book? Once again, it was the characters (sans three) that really made the book for me. I love how straightforward Annabel is and her comments about how confusing London society is spot on; I really felt for her and how she had to navigate the ton, not to mention the attentions of both the Earl of Newbury and Sebastian. I liked her, she obviously felt her responsibilities to her family but she's also someone who just wants a good time, no drama, nothing shocking. I absolutely loved her scenes with Sebastian, they really hit it off when they first meet and the dialogue and the banter was fantastic; Sebastian is especially witty and I found myself chuckling at a lot of their scenes, either separate or together. I also love how Sebastian doesn't quite take things too seriously–despite of a rather serious backstory–and like Annabel realised, he does manage to find humour in everything (not to mention he's like that younger brother who never ceases to exasperate the people around him, namely Olivia, lmao). Their romance develops pretty quickly, but given outside events–namely the earl *barfs*–and just the nature of their interaction, I thought it was fairly plausible, they really get each other from the start, even if they didn't realise it.
Plus, omg, the reveal about Sebastian Grey: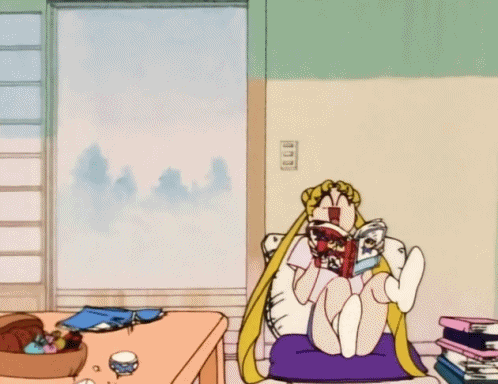 Not my gif
No, seriously, I'm so so happy I decided to pick up this book. If you've read Julia Quinn's other books, namely her Smythe-Smith quartet (though I believe it was also mentioned in the Bridgertons series), there's a running element that appears time and again. I don't even want to outright say it because it was such a delightful surprise, but I loved it 😀 I loved everything about it.
Now for the not-so-amusing part of this book: the Earl of Newbury *gag*

Not my gif
That gif can't even convey how utterly gross this man was (if I can call him such).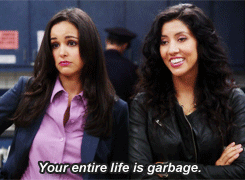 Not my gif
Re: the gif — much…better? Anyway, he has to be the worst antagonist I've read in a Julia Quinn novel. You just want to scream and tell Annabel to run as fast as she possibly could from him *shudders* Ugh, I'm not even going to bother saying any more about the matter, suffice to say he is the worst =S
Lady Vickers was no better.
But overall, Ten Things I Love About You is another fantastic read from Julia Quinn. The main characters were lovely and I enjoyed reading their romance. The humour was great, had me laughing and flailing at times, and the Earl of Newbury was absolutely gross. I wish there was a series featuring Annabel and her siblings because they sound like so much fun with all the little competitions and titles they give each other (Julia Quinn writes large families best). The book works nicely as a standalone; you don't have to read the first two books to get to know the characters, though I did read that Sebastian was quite fabulous in the other books and two characters I believe were featuring quite prominently in the previous novel. So yeah, another great book from Julia Quinn!
Rating:
Visit the author's official website || Order this book from the Book Depository



Tags: