Top Ten Tuesday is an original feature/weekly meme created here at The Broke and the Bookish. This meme was created because we are particularly fond of lists here at The Broke and the Bookish. We'd love to share our lists with other bookish folks and would LOVE to see your top ten lists!

This week's topic: Top Ten Historical Settings You Love / Ten Historical Settings You'd Love To See
There was an option this week and I decided to go with the past 😉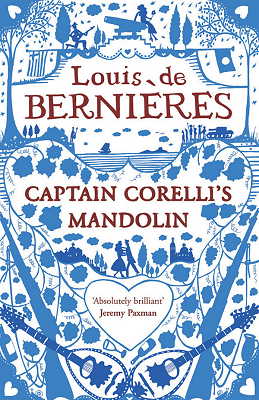 In no particular order, 5 historical settings I love:
World War Two — I don't know, there's something about the World War Two setting that's interesting for storytelling, the immediacy of the situation. A lot of my favourite novels are set in this time–Julie Orringer's The Invisible Bridge (review), Louis de Bernieres' Captain Correlli's Mandolin (review), and Ian McEwan's Atonement (review)–are set in this period.
Early Modern/Renaissance Italy — Well, I love the country so I love the setting of Italy in books 🙂 I think most of my historical fiction reads set in Italy have centered around the early modern/Renaissance period of Italian history which was an interesting and colour period. Marina Fiorato's books (see author tag does a wonderful job in bringing that period of history to life…
Any period in Russian history — Of course, student of Russian history I was 😛 Whether it's during the Soviet period (Travis Holland's The Archivist's Story (review) or a sweep of Russian history (Edward Rutherfurd's Russka (review)), I will likely check it out 😉
Any period in British history — Need I say more? My fascination in British history is long-standing (going back to when I was very young) so naturally my interest carried on to setting in historical fiction 🙂 I seem to especially stick to the Regency period for historical romances, lol
Pre-revolutionary and post-Napoleonic to early 20th century France — I dunno why, I'm not so big on the Revolutionary period itself, but everything before that, the stuff after that and going into World War Two are my favourite time period settings for books set in France. The Belle Epoque is especially a favourite, so much was coming out at that time in the arts and in the literary scene.
And now, 5 historical settings I'd love to see (more of):
Pre-20th century Spain — I've read quite a bit set in early 20th century Spain and a few historical fiction books set in the 19th century and the medieval period (less than 5), but I'd love to see more books set in pre-20th century Spain. Maybe I just haven't encountered them in my various forays to the bookstore and parusing on GoodReads but Spain has such a rich culture, surely there should be more books set there…And in English (or better yet, work on my Spanish so I can read all the stuff published in Spanish) 😛
Pre-20th century Scandinavian countries — I've read a few (again, less than 5), but I haven't see more, especially set in the early modern period. Denmark, Norway, Finland…Yeah, it'd be nice to see more books set in that region and not in the mystery/crime genre.
Pre-20th century Philippines — Outside of the big classics, I actually haven't read a historical fiction novel set there. It'd be nice to read some 🙂
Pre-Petrine Russia — Pre-Petrine Russia (or early modern/imperial Russia) is such a fascinating period with such a rich culture and quite an upheaval of events, it's the perfect setting for a historical fiction novel. I mean, the madness alone of the Time of Troubles is enough of a drama on its own…
Mongolia. Any period. — Hell, even a contemporary novel set in Mongolia. I've always been curious about that country.


And that's my list this week of favourite historical settings and settings I'd like to see more of in books. Are any of these your favourites? What settings did you choose this week (past or future)? 🙂



Tags: