The Custom of the Country
By: Edith Wharton
Format/Source: eBook; my copy
Highly acclaimed at its publication in 1913, The Custom of the Country is a cutting commentary on America's nouveaux riches, their upward-yearning aspirations and their eventual downfalls. Through her heroine, the beautiful and ruthless Undine Spragg, a spoiled heiress who looks to her next materialistic triumph as her latest conquest throws himself at her feet, Edith Wharton presents a startling, satiric vision of social behavior in all its greedy glory. As Undine moves from America's heartland to Manhattan, and then to Paris, Wharton's critical eye leaves no social class unscathed.
This book has been on my TBR queue for many years, and it's the last of Edith Wharton's New York novels I have yet to read. I've been reading her works over the years and have come to love her works, however depressing they can be, because of the characters she draws up and the awesomeness that is her writing. So yeah, after years of sitting on my queue, I pushed to make it a point to read this book this summer, even though I've been busy studying for exams (because, you know, I need a break every now and then, right? 😉 )
Where do I begin with this novel? It's been a while since I've read something as infuriating and stressful as The Custom of the Country; it pains me to write this as it is Edith Wharton and I do love her other books, but this book was hands down my least favourite. Edith Wharton's writing still shines in this novel, she really has a finer on people's emotions and experiences and the settings in which these characters visit. So why did I did I feel like chucking my eReader against the wall while reading this book? It all comes down to her main character, Undine Spragg.
Don't get me wrong, I do enjoy reading a novel featuring an antihero or antiheroine, but I found nothing about Undine that compelled me to root for her or at least left me with some understanding about why she was the way she was. Undine is shallow, incredibly selfish, ridiculously vain, doesn't give a whit about the people around her really (not to mention her negligence of her only child was appalling, gosh, rage me even more why don't you), and the only things she really learns over the course of the novel are the little things that will help her social standing or dealing with other people on the next occasion. That's it, there's nothing more to this character, really. And the trail of destruction (and death, if you can imagine) she left behind is just ridiculous. Really.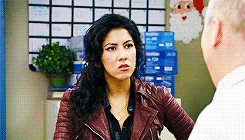 (Not my gif…not even sure if this aptly describes my reaction throughout this novel)
I felt more sympathetic and sorry for the other characters, especially Ralph. He tried everything to make her happy, worked so hard to make the money needed for her lifestyle, but it just wasn't enough. And he had such potential himself, with ideas and the way he saw the world (I loved the early passages of him enjoying the sun and the scenery in Siena, Italy). I suppose if it was one thing that was interesting (and one of the many sad aspects) about this novel, it was Wharton's look at a marriage that was falling apart due to a number of different factors. My interest had already waned considerably by the latter half of the novel but I felt bad for Raymond and everything he had to go through as well.
And gosh, Ralph and Undine's son Paul…I felt sorry for him most of all.
I'm sure there's a lot of fascinating thematic elements about this novel that I missed out on–namely the commentary about the social scene and class of the time–but I couldn't look pass how irritating and spoiled Undine was. The scenes without her were far more easier to read through than the scenes with her; I was honestly rooting for her getting thrown down the social ladder instead of moving up, but I suppose for all the shallow aspects of her, I should commend her for picking herself up every single time. I suppose the other reason why I wasn't as compelled by this novel was the fact that nothing else was fuelling the story oneward except for Undine's relentless ambition for more. It's tiring, and sad, and I was incredibly happy when I got to the last page.
Rating:
Read about the author from her Wikipedia page || Order the book from the Book Depository


Tags: