So You Want to Read… is a new monthly feature here on eclectictales.com in which I recommend books by particular authors to readers who have never read a book from certain authors and would like to start. I'm always happy to recommend books and certain authors to my fellow readers and bloggers! 🙂
For this month, I will be featuring Brandon Sanderson. He's pretty well-known in the fantasy genre, both in adult fantasy and YA fantasy. I first encountered his novels sometime in the mid-2000s but I didn't really get around to his books until a few years after that. He's written a ton of novels, both full-length and shorter novellas, not to mention he finished Robert Jordan's The Wheel of Time series. The scope of his novels are astounding, imaginative, and the stories are just entertaining with great characters and dialogue. And I wish I wrote as fast as him 😛
So without further ado, here's 5 titles I'd recommend by Brandon Sanderson if you haven't read of his stories yet (which you should 😛 ):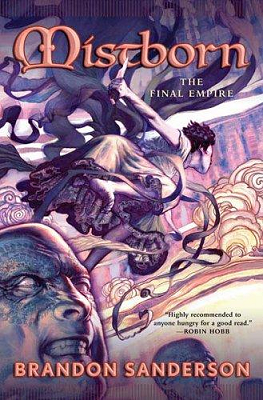 Mistborn (review) — Naturalmente 😛 Brandon Sanderson's Mistborn books (especially the first trilogy) is absolutely amazing and engrossing: it's funny, it's epic, it's fascinating, just all the feels. I cannot recommend this book enough, go read it now!
Elantris — This was Brandon Sanderson's first novel (incidentally also the first novel by him that I read). People say it's his weakest novel of his bibliography, but I find it just as fantastic as his other novels. That he was able to tell such a tale in one novel was very impressive (normally you'd see such stories stretched into a trilogy or more) and the worldbuilding was absolutely vivid. This book still holds a special place for me, I recommend it 🙂
Warbreaker (review) — Another standalone (for now, at least) that tells quite a story on an epic scale. Brandon Sanderson's pretty good at writing antiheroes and this book epitomises this quite nicely. The main character is so totally not meant to carry out anything resembling "the right thing" or "for the good of everyone" and just wants to be left alone but gets sucked into events. Oh, and like every other Brandon Sanderson book, the magic system here is pretty awesome.
Legion — For a change of pace, Legion is a start of a sci-fi series of novellas about a guy who has the ability to converse with other avatars within one person and whom you can gather skills and information from (like Joss Whedon's Dollhouse). I haven't read the second novella yet but I really enjoyed the first one. And it's shorter than the other books listed if you're looking for something a little on the short side to start with.
The Rithmatist (review) — I've only recently gotten around to checking out some of Brandon Sanderson's YA titles, starting with this book. Again, the magic system is intriguing, along with a rather interesting alternative history look for the setting. The tone's different from his other books but younger readers and YA readers will have a lot of fun with this book.
And that's about it! I hope this list of books helps if you're interested in reading any of Brandon Sanderson's books 🙂 Which books of Brandon Sanderson have you read? Which were your favourites? Which would you recommend for first-time readers?


Tags: