I may not be hosting or taking part in a re-reading challenge or anything this year, but I am continuing my efforts to re-read a few books I haven't read in a while or re-read a few books before checking out the latest/last installment in a trilogy or series. There are spoilers for some of the following commentaries, so if you haven't read the book yet, be sure to click on the link redirecting to my original review (which, if there are major spoilers, will at least be behind a cut) 😉
Utopia
By: Thomas More
Format/Source: Mass bound paperback; my copy
In Utopia Thomas More painted a fantastical picture of a distant island where society is perfected and people live in harmony, yet its title means 'no place', and More's hugely influential work was ultimately an attack on his own corrupt, dangerous times, and on the failings of humanity.
I read this book some five years ago when it was released as part of the third cycle of Penguin Great Ideas books. I had been meaning to re-read it again for so long and was prompted to pick it up again earlier this year with Wolf Hall airing. Reading this time around I able to appreciate more why the piece was structured the way it was (structured in a dialogue format akin to the Greek philosopers (Plato comes to mind)) and where the element of criticising his own times came in. It's fantastical, but at the same time you can see where his society and his beliefs influenced much of the constructs that this utopian society contained.
Rating:
+++
Much Ado About Nothing
By: William Shakespeare
Format/Source: Mass bound paperback; my copy
My original review of the play
Proud, vivacious Beatrice and a high-spirited rake Benedick both claim that they are determined never to marry. But when good-hearted mischief-maker Don Pedro tricks them into believing that each harbours secret feelings for the other, Beatrice and Benedick begin to question whether their witty banter and sharp-tongued repartee conceals something deeper. Schemes abound, misunderstandings proliferate and matches are eventually made in this sparkling and irresistible comedy.
I decided to revisit this play after watching the 2011 Globe production recently (review) and my pre-order of Marina Fiorato's Beatrice and Benedick finally arriving (hurray!). If you've read my review of my first read of the play, you know that I liked it for the most part although I had a lot of problems about the Hero & Claudius storyline. I still do, but it's a little easier to stomach this time around (though I still wish Claudius got smacked in the head a bit before reuniting with Hero), probably because I've read more problematic storylines from Shakespeare since 😛
The best storyline is still that of Beatrice and Benedick's. Is it me or does Benedick has the best lines in the play? I mean, Beatrice has some great responses to Benedick and I enjoyed their banter, but Benedick was pretty hilarious through and through. Hands down my favourite sequences from the play was when they were eavesdropping on their friends talking about them 😛
So yeah, really enjoyed re-reading the play this time around 🙂
Rating:
+++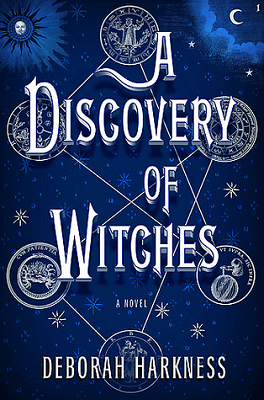 The Discovery of Witches (All Souls' Trilogy #1)
By: Deborah Harkness
Format/Source: Mass bound paperback; my copy
My original review of the novel
Deep in the stacks of Oxford's Bodleian Library, young scholar Diana Bishop unwittingly calls up a bewitched alchemical manuscript in the course of her research. Descended from an old and distinguished line of witches, Diana wants nothing to do with sorcery; so after a furtive glance and a few notes, she banishes the book to the stacks. But her discovery sets a fantastical underworld stirring, and a horde of daemons, witches, and vampires soon descends upon the library. Diana has stumbled upon a coveted treasure lost for centuries-and she is the only creature who can break its spell.
The Discovery of Witches has to be one of those books that a) gets better every time I read it and b) leaves me flailing every single time. I think the fact that I finally got my hands on the final volume in the trilogy quite recently has left me especially flail-y as I was revisiting this novel 😉
It seems that while I remember how the basic premise of this novel ran, there were a lot of little details that I had forgotten about. There was one particular detail that was mentioned quite early in the novel that left me wondering whether it would make a reappearance in later novels (spoiler: it does). It's also interesting how everything mentioned in this novel is mentioned for a reason and ties in together with the greater mystery and narrative somehow.
As always, I loved Diana and Matthew's interaction together; there's obviously the witch/vampire dynamic, but I love their scholarly discussions as well. There are times one forgets that these two are academics (moreso come the second book and the events there) 😉 I totally empathise with Diana the historian and her care for manuscripts and architecture and her curiosity over what Matthew had seen over the course of his life. I'd be excited to if I was listening to all that too. The other characters were fantastic (or scary, depending on which side the character is on) and the stakes really builds up over the course of the novel. So yeah, it was great to revisit the novel and these characters again 🙂
Rating:
+++
Shadow of Night (All Souls' Trilogy #2)
By: Deborah Harkness
Format/Source: Mass bound paperback; my copy
My original review of the novel
A Discovery of Witches introduced Diana Bishop, Oxford scholar and reluctant witch, and vampire geneticist Matthew Clairmont. Drawn to each other despite long-standing taboos, these two other-worldly beings found themselves at the center of a battle for a lost, enchanted manuscript known as Ashmole 782.

Book two of the All Souls trilogy plunges Diana and Matthew into Elizabethan London, a world of spies and subterfuge, and a coterie of Matthew's old friends, the mysterious School of Night. The pair's mission is to find traces of Ashmole 782, but as the net of Matthew's past tightens around them they embark on a very different–and vastly more dangerous–journey.
This is the first time I'm re-reading Shadow of Night in preparation for the last novel, The Book of Life 🙂 Obviously this novel feels a lot different compared to the first volume because Diana and Matthew are now in the 16th century. But what starts off as a simple mission to find Diana a powerful witch for her to train with and locate the Ashmole 782 becomes a very complex matter involving Matthew's very busy past, his family, and creature politics. This book was also pretty complex, weaving in historical characters with creatures, politics with the supernatural dimension. The novel also presents the difference between studying a historical period and actually living it, much to Diana's stress. It does feel like the story meanders a bit as a result but it's not irritating because a) you learn more about Matthew along the way, b) it's not boring, c) it does work in towards Diana and Matthew's growing relationship and the challenges they face (thank goodness, no love triangles…unless you include Kit Marlowe's unrequired love for Matthew), and d) the narrative–and the characters–is very much aware of the events of the 16th century siderailing their initial mission.
The novel also continues to build in Matthew and Diana's characters and their relationship. It occurred to be this time around how much Diana had grown and changed as a result of her time in the 16th century and learning to understand and use her magic. I mean, it's good in that she can control it and summon it at will, and can protect herself and others as necessary, but it and her experiences have also made her a little harder as well. Matthew meanwhile seems to have had a life in which he's played almost every role there is, and his struggle to understand his feelings towards Diana and his nature runs deeper than it seems. But the parallels cntinue with Matthew and Diana as a running theme in this novel seems to be that of reacquainting with absent fathers (feels, yo).
I was pretty sad when Matthew and Diana had to leave the 16th century because I grown to love the characters they were with for the past seven months: Annie and Jack, Gallowglass (he reminds me of Marcus with his teasing, carefree attitude, but without the added responsibilities that Matthew placed on Marcus at the end of the first novel), etc. Philippe was such an intriguing character and I loved how he grew to care for Diana in the end; I was all ;_; over Ysabeau in the present storyline looking for Philippe's note. Speaking of which, short as they were, it was nice to see small chapters dedicated to what's happening in Diana and Matthew's absence in the present, especially as it shows how their presence in the past is affecting the present.
Overall, like the first novel, it was great to re-read this novel. Wasn't quite as flailing over it as the first book, but there's a lot going on in this book, not to mention more revelations and questions about the Ashmole 782. And with that, I can finally read The Book of Life 😀
Rating:
+++

And those are my remaining mini-reviews of books I've re-read recently! Have you read any of these titles? If so, would you consider revisiting them again? Or if you haven't read any of these books, would you read them at some point in the future?


Tags: