Top Ten Tuesday is an original feature/weekly meme created here at The Broke and the Bookish. This meme was created because we are particularly fond of lists here at The Broke and the Bookish. We'd love to share our lists with other bookish folks and would LOVE to see your top ten lists!

This week's topic: Top Ten ALL TIME Favorite Authors
This is a cruel, cruel topic for this week 😛 I could go and on and on about my favourite authors! 😛 Well, long-time readers of my blog will probably figure out a few of the authors that will make my list this week… 😉 (oh, and yes, I'm going with twenty authors for this list 😛 )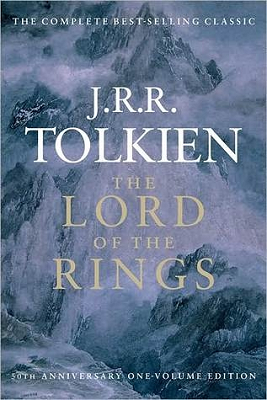 In no particular order:
J.R.R. Tolkien (see tag) — Surprised? Need I say more? 😛 I love everything about his books: the storytelling, the characters, the themes, the writing, the sheer scope and epicness of his tales, how he developed a detailed history, lore, and languages to these worlds he created. Even the posthumous titles that have been coming out containing fragments of his translations of early epics show his scholarly detail and mind.
Jane Austen (see tag) — Again, surprised? I don't even know where to begin with Jane Austen's books, I return to them time and again because of the characters, the stories, the themes.
Elizabeth Gaskell (see tag) — Okay, actually, the top four to eight authors shouldn't be a surprise to anyone. I've mentioned this to some in the past but what I love about Elizabeth Gaskell is how she's able to weave socio-political issues into her stories without beating said issues over the heads of the readers a la Dickens (much as I like Dickens).
Carlos Ruiz Zafon (see tag) — I love how atmospheric his novels are with plenty of mystery and character drama and an all-around love for books and storytelling. The Shadow of the Wind (review) is the reason why I became so interested in Spanish history and books written by Spanish authors (not to mention that impromptu trip we had a few years ago, lol. The book influence was strong!).
Ivan Turgenev (see tag) — My favourite amongst the Russian classic authors, although I do have a few favourites. Like Elizabeth Gaskell, I love how he is able to interweave his socio-political commmentary about the state of his Russia alongside interesting storytelling and intriguing characters.
Brandon Sanderson (see tag) — Definitely one of my top favourite fantasy authors right now. It never ceases to amaze me how much he writes and publishes every year, but also how consistent and imaginative his stories are. I wish I had a quarter of his brain/writing skills, maybe I'd be finished writing something by now 😛
Patricia A. McKillip (see tag) — I can't believe I only got around to her books some two years ago. The fantasy novels she writes is a lot different from the types of fantasy books out there right now: very lyrical and with a dream-like quality to them.
Ian McEwan (see tag) — To be honest, his books can be a hit or a miss for me sometimes but I do love his writing very, very much. Atonement (review) for me is a near-perfectly written novel.
Daniel Silva — Out of all of the suspense/adventure/mystery series out there, Daniel Silva's books are definitely my favourite and one of those authors who automatically go on the to-buy list whenever a new book of theirs comes out. His books are fast-paced and intriguing which great characters, great dialogue amongst said characters, and there's just never a dull moment with his stories.
Sarah Addison Allen (see tag) — I love her books, I can always rely on turning to her books when in need of comfort reading 🙂 The stories are wonderful, the character interactions adn developments great, and a dash of magical realism to make the whole experience all the more magical 🙂
Anton Chekhov — Apparently I only reviewed one of his works, A Russian Affair (review), part of Penguin's Great Loves series, but I do enjoy his work. His stories are much shorter than many of the Russian classic authors, but he's very succinct in his portrayal of emotions and human drama.
Edith Wharton (see tag) — A more recent favourite classic author. I only got around to reading her books a few years ago and absolutely loved how well-rounded her characters were and how compelling the stories and the themes in her stories are. Thank goodness I still have a number of her books to read still!
Charles Dickens (see tag) — Looking at his overall body of work, I've only read perhaps a third of his books, but he is included in this list because he has written two books that I consider as my favourites: Our Mutual Friend (review) and Little Dorrit (review). The scope of his stories are huge, and they meander at times too, but he's written some memorable characters.
William Shakespeare (see tag) — I've always enjoyed Shakespeare, ever since I was introduced to his works in school. Last year I hosted the Shakespeare reading challenge which was a lot of fun; my reactions varied, but this year my love for the bard has continued with watching theatre performances (thank you, Opus Arte's The Globe selection!) and listening to audiobooks 🙂
Alice Munro (see tag) — I can't believe it took me this long to get around to her books (within the past year or so); her short stories are so interesting with so much to think about–not to mention all the feels xD Can't wait to read more of her stories/her other collections!
E.M. Forster (see tag) — A Room With a View (review) and The Longest Journey (review) are some of my favourite novels ever, his characters and their interactions are so interesting, as are the settings that his novels are set in.
Deborah Harkness (see tag) — I <3 the All Souls trilogy so very much; I recently read the final volume, The Book of Life, and suffice to say I really loved it (my review will be posted next month 😛 ). The history and lore mixed in with the mystery, the characterisations and interactions…Yup, she gets a spot on my top 20 list 😉 I can't wait to read what she writes next!
Georgette Heyer (see tag) — Another one of my comfort reads, but also a lot of fun as I love Jane Austen's books and love the kind of high society stories you can get out of the Regency period (don't like her Georgian novels as much). Some have been a miss as of late, but I have plenty of favourites by her.
Federico Garcia Lorca — I mentioned this back at the start of the month with my So You Want To Read… feature (post) but he is my favourite poet. There's just something about his poetry, his descriptions, painting scenes with his words…
Orlando Figes — And finally, my list is not complete without at least one non-fiction author 😛 Orlando Figes tops my list because he makes elements of Russian history (whether pre-20c or 20c) very accessible to readers. His works (The Whisperers and Natasha's Dance just to name a few) deepened my interest in Russian history and provided great insight when I was working on my MA thesis.
Honourable Mentions: Hilary Mantel (see tag), Leo Tolstoy, Diana Wynne Jones (see tag), Rainbow Rowell (see tag), Ellis Peters, Edward Rutherfurd, and Arturo Perez-Reverte (see tag). There are also plenty of other authors whose books I loved but I only read one book from (or they only have one novel out so far) and so I didn't add them to the list this time around. I'm also probably missing a few, oops :3

And that's my TTT list for this week! Who are your favourite authors and made your list this week?


Tags: