Here we are again, another batch of mini-reviews that couldn't possibly warrant their own review posts. This also is likely the last one of the year seeing as we're in the last quarter of the year, things are busy on my end, and my to-read pile is still pretty tall 😉 Included in this batch of reviews are:
This book is part of the A Year in Re-Reading: a 2014 Reading Challenge & the Everything España 2014 Reading Challenge that I am participating in. May contain some spoilers ahead!
Selected Poems
By: Federico Garcia Lorca
Format/Source: Paperback; my copy
'Lorca brought an understanding of the paradox that was Spain – sensuality chafing under a rigid moral code, individual desire at war with tradition.' Manuel Duran

Federico Garcia Lorca is perhaps the most celebrated of all twentieth-century Spanish writers, known not only for his plays but also for several collections of poems published both in his short lifetime and after. Lorca's poetry is steeped in the land, climate, and folklore of his native Andalusia, though he writes memorably of New York and Cuba too. Often in modernist idiom, and full of startling imagery, he evokes a world of intense feelings, silent suffering, and dangerous love. This selection balances poems from Lorca's early collections with his better-known work to give a clear vision of his poetic development. Martin Sorrell's accomplished translations are complemented by D. Gareth Walters's shrewd Introduction, with its distinctive focus on the achievements of the poet.
I think it's a well-known fact here on my blog that Federico Garcia Lorca is my favourite poet. There's just something in the way he constructs his poems, the images and feelings that he evokes through the words. I especially enjoy this copy and another copy of his poetry that I own because they are bilingual ad I like reading some of his poems in Spanish. I find myself re-visiting his works time and again, they're absolutely stunning. For example:
Autumn Song (Granada), November 1918

Today in my heart
I feel a vague tremor of stars,
but my path is lost
in the soul of the mist.
The light clips my wings,
and my sorrow
is dipping memories
in the fountain of idea.

All roses are white,
as white as my pain;
but roses are white only
because snow has fallen on them.
Before, they had the rainbow.
Snow also falls on the soul.
Soul snow has flakes:
scenes and kisses sunk
in the light or shadow
of the one who thinks them.
Snow falls from roses
but stays on the soul,
and the talon of years
weaves it into a shroud.

Will the snow melt
when Death carries us off?
Or will there be, later,
other snow and other
more perfect roses?

Will peace be with us
as Jesus teaches?
Or will the problem have
no possible solution?

And if we're tricked by love?
Who will inspire us
if we're sunk by dusk
in the true knowledge
of Good that might not exist
and Evil that beats close by?

And if Hope is extinguished
and Babel begins,
what torch can enlighten
the roads of the earth?

And if blue is an illusion,
what will become of the heart
if Love has no arrows?

And if death is death,
what will become of poets
and sleeping things
that no one now remembers?
Oh sun of hope!
Clear water! New moon!
Hearts of children!
Rough souls of the rocks!
Today in my heart
I feel a vague tremor of stars,
and all roses are white,
as white as my pain.
Rating:
+++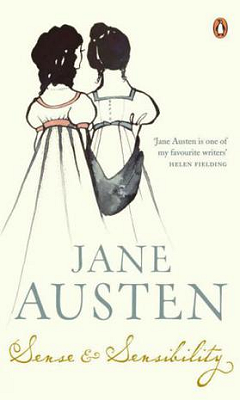 Sense & Sensibility
By: Jane Austen
Format/Source: Mass bound paperback; my copy
My original review of the novel
Marianne Dashwood wears her heart on her sleeve, and when she falls in love with the dashing, but unsuitable John Willoughby, she ignores her sister Elinor's warning that her impulsive behaviour leaves her open to gossip and innuendo. Meanwhile Elinor, always sensitive to social convention, is struggling to conceal her own romantic disappointment, even from those closest to her. Through their parallel experience of love – and its threatened loss – the sisters learn that sense must mix with sensibility if they are to find personal happiness in a society where status and money govern the rules of love.
I randomly picked up my paperback copy of S&S to read in the subway between classes and clinical. A lot of my thoughts from my previous review/commentary of the novel still stands, except perhaps this time around I thought the contrast between the Dashwood sisters and the Steeles made for interesting food for thought. It was interesting how romance preoccupied Marianne and Miss Steele, but while Marianne had that intense sort of romance/first love to her preoccupations, Miss Steele was pretty silly with her frivolousness and preoccupations about her "beau." Elinor and Lucy are more in tune with the way that society works and the proper etiquette of things, but Lucy is far more manipulative and quite malicious with the way she goes about society whereas Elinor is quite conscious of other people and polite. It's also strange how the Ferrars and Mr. & Mrs. John Dashwood considered the Steeles as genteel and wonderful but Elinor & Marianne rude and snobbish when in fact the opposite is the case (the Ferrars and John & Fanny Dashwood make me cringe anyway with their perspectives in general; I suppose there's a bit of humour in their backwardness, but I still side-eye them in general a lot of the time).
I also found that Marianne didn't irritate me as much this time around. I always felt bad for Elinor–and I still do–that she had to comfort and support Marianne even as Marianne called her cold and unfeeling and she was dealing with her own problems in the form of Lucy Steele, but I find myself admiring Marianne in a sense that she disregarded what society thought about her and didn't want conform with social expectation when it came to voicing and acting on her feelings. Yes, she does take it to an extreme–to the point of illness and rudeness–but it's still something, I think.
It's always delightful to revisit an Austen novel with all of the familiar characters 🙂
Rating:
+++
Jesus of Nazareth: From the Baptism in the Jordan to the Transfiguration
By: Pope Benedict XVI
Format/Source: Hardback; my copy
For Christians, Jesus of Nazareth is the Son of God, who died for the sins of the world, and who rose from the dead in triumph over sin and death. For non-Christians, he is almost anything else-a myth, a political revolutionary, a prophet whose teaching was misunderstood or distorted by his followers. Jesus of Nazareth is the Son of God, and no myth, revolutionary, or misunderstood prophet, insists Benedict XVI. He thinks that the best of historical scholarship, while it can't "prove" Jesus is the Son of God, certainly doesn't disprove it. Indeed, Benedict maintains that the evidence, fairly considered, brings us face-to-face with the challenge of Jesus-a real man who taught and acted in ways that were tantamount to claims of divine authority, claims not easily dismissed as lunacy or deception.

Benedict XVI presents this challenge in his new book, Jesus of Nazareth: From His Transfiguration Through His Death and Resurrection, the sequel volume to Jesus of Nazareth: From the Baptism in the Jordan to the Transfiguration.

Why was Jesus rejected by the religious leaders of his day? Who was responsible for his death? Did he establish a Church to carry on his work? How did Jesus view his suffering and death? How should we? And, most importantly, did Jesus really rise from the dead and what does his resurrection mean? The story of Jesus raises these and other crucial questions.

Benedict brings to his study the vast learning of a brilliant scholar, the passionate searching of a great mind, and the deep compassion of a pastor's heart. In the end, he dares readers to grapple with the meaning of Jesus' life, teaching, death, and resurrection. Jesus of Nazareth: From His Transfiguration Through His Death and Resurrection challenges both believers and unbelievers to decide who Jesus of Nazareth is and what he means for them.
I received a copy of this book from a family friend and was the first book from Pope Benedict XVI's full-length non-fiction titles that I own. I've read some of his encyclical letters in the past but this was the first time that I actually encountered the deep intellect that Pope Benedict XVI possesses and the way that he approaches the Gospel and dogma and religious theory. I was very much impressed as the first time, not only in the way that he linked faith and thought and history all together, but also because I learned so much about some of the theories and ideas and ways of examining the New Testament and Jesus' life. There's this whole body of literature and theory called Christology that I didn't know existed, so that was really interesting to read. Also, Pope Benedict XVI doesn't just use theories within the Catholic body of literature, but also uses Protestant and Eastern Orthodox lit and theorists when applicable, and contrasting them with his own ideas and analysis. It was interesting to revisit this book over the course of Jesus' ministry right up before his Passion.
Rating:
+++
Before I Go To Sleep
By: S.J. Watson
Format/Source: Paperback; my copy
My original review of the novel
Christine wakes up every morning in an unfamiliar bed with an unfamiliar man.

She looks in the mirror and sees an unfamiliar, middle-aged face. And every morning, the man she has woken up with must explain that he is Ben, he is her husband, she is forty-seven years old, and a terrible accident two decades earlier decimated her ability to form new memories.

But it's the phone call from a Dr. Nash, a neurologist who claims to be working with Christine without her husband's knowledge, that directs her to her journal, hidden in the back of her closet. For the past few weeks, Christine has been recording her daily activities — tearful mornings with Ben, sessions with Dr. Nash, flashes of scenes from her former life — and rereading past entries, relearning the facts of her life as retold by the husband she is completely dependent upon. As the entries build up, Christine asks many questions. What was life like before the accident? Why did she and Ben never have a child? What has happened to Christine's best friend? And what exactly was the horrific accident that caused such a profound loss of memory?

Every day, Christine must begin again the reconstruction of her past. And the closer she gets to the truth, the more unbelievable it seems.
I read this novel a few years ago when it first came out, having heard so much about it. I decided to revisit this novel as the movie adaptation starring Nicole Kidman, Colin Firth, and Mark Strong is coming out soon.
I was pleasantly surprised to see that this novel actually holds up the second time around. Despite vaguely recalling what really happened to Christine that led her to her present condition, it's still a gripping read–I could not put this book down once I started reading it! This time around, however, I was able to pick up on little clues here and there that hinted of what was really going on, things that I missed the first time around. While I'm perhaps a little sceptical at some of the details of Christine's peculiar condition, the story was quite gripping.
On a random note, I couldn't read this book without imaging the actors in their respective roles. I didn't quite have any particular image to go with the characters when I first read them, soooo…
Overall, a thrilling read event he second time around 🙂
Rating:
+++
Rebecca
By: Daphne du Maurier
Format/Source: Paperback; was a gift to me years ago
My first review of the novel
Last night I dreamt I went to Manderley again…

Working as a lady's companion, the heroine of Rebecca learns her place. Her future looks bleak until, on a trip to the South of France, she meets Max de Winter, a handsome widower whose sudden proposal of marriage takes her by surprise. She accepts, but whisked from glamourous Monte Carlo to the ominous and brooding Manderley, the new Mrs de Winter finds Max a changed man. And the memory of his dead wife Rebecca is forever kept alive by the forbidding housekeeper, Mrs Danvers…
So correction: I thought I never reviewed this book years ago when I first read it, but apparently I did (see here).
I decided to re-visit this book because I vaguely recalled the details of the story. Which was good, because it made revisiting quite interesting. For example, I didn't realise how much of a dreamer our unnamed protagonist was; she has quite a bit of an imagination, dreaming up scenarios and ideal situations, all to which I can identify with her, haha. I also really felt bad for her; I've read reviews where they had issues at how spineless the protagonist was, but I feel like she's just totally out of her depth here. Her past has clearly not prepared her for something like this and encountering people as messed up as Mrs. Danvers and the spectre of Rebecca, not to mention she's just thrown into the workings of Manderley without any sense of direction or support from Maxim.
I also found myself especially irritated with Maxim this time around (I had a liner about it last time, but this time my frustration with him was full-blown). He's certainly reminiscent of Jane Eyre's Mr. Rochester with his strange behaviour and his sometimes-brutishness, but other times he's just a bit of a douche. I get that his guilt was eating him up inside big time, but to leave his wife floundering like that? To leave her to her own devices knowing full well this is not the sort of lifestyle she's accustomed to? Yeah, no, not cool.
Also: Mrs. Van Hopper is a bitch and Mrs. Danvers needs to just go away. Ugh. I really liked Beatrice this time around, I think because it's clear that she's being supportive of our unnamed protagonist however best she can and in her own way; she also balances the protagonist's quietness quite nicely when she's around. And Frank's presence is a reassuring one, especially during that particular period when Maxim was being especially distant. As for Rebecca…I thought it was curious how vague some of the reveals were, I guess back then it was already understood what Maxim meant as to what sort of character she was (very creepy, by the way).
Overall, I held a bit more frustration towards circumstances in this novel, but I still greatly enjoyed it.
Rating:
+++
Meditations
By: Marcus Aurelius
Format/Source: Paperback; my copy
Few ancient works have been as influential as the Meditations of Marcus Aurelius, philosopher and emperor of Rome (A.D. 161–180). A series of spiritual exercises filled with wisdom, practical guidance, and profound understanding of human behavior, it remains one of the greatest works of spiritual and ethical reflection ever written. Marcus's insights and advice—on everything from living in the world to coping with adversity and interacting with others—have made the Meditations required reading for statesmen and philosophers alike, while generations of ordinary readers have responded to the straightforward intimacy of his style. For anyone who struggles to reconcile the demands of leadership with a concern for personal integrity and spiritual well-being, the Meditations remains as relevant now as it was two thousand years ago.
I've read this book years ago; it was my first book in the Penguin Great Ideas series (love this series by the way; highly recommended if you're into history/ideas/philosophy/essays). Marcus Aurelius' thoughts and reflections were very interesting, as though his insights and advice were more like reminders to himself to keep on going, of his place in the world, of what was greater and lesser in significance, and the pitfalls of being less observant about everything around him. It was interesting to revisit it, put things in perspective as to what's important and what not to stress out about. Plus, his thoughts are short, which you can pick up whenever 😉 Definitely worth checking out!
Rating:
+++
Persuasion
By: Jane Austen
Format/Source: Mass bound paperback; my copy
My first review of the novel
At twenty-seven, Anne Elliot is no longer young and has few romantic prospects. Eight years earlier, she had been persuaded by her friend Lady Russell to break off her engagement to Frederick Wentworth, a handsome naval captain with neither fortune nor rank. What happens when they encounter each other again is movingly told in Jane Austen's last completed novel.
So once again I partake in my yearly re-read of Jane Austen's Persuasion 🙂 There's just something comforting about revisiting a favourite, regardless of how well you remember the plot, and just revisiting the characters and their stories. I still feel for Anne and everything she went through and still feel admiration for th way she handled everything. And of course Captain Wentworth's letter still gets me every single time <3 I do remember feeling rather intrigued at the contrast of locations this time around (I think the 2007 adaptation does a lovely job at that, the contrast between Uppercross, Lyme, and Bath) and I feel for Anne's desire to stay somewhere quiet in the countryside rather than in a place like Bath. Her reaction to visiting Lyme for the first time was rather precious, and it occurred to me how despite having access to all of these quiet places, many of the characters in Jane Austen's novels never really get to visit them regularly (I don't know why the 2009 adapation of Emma comes to mind here and her desire to see the sea, but there you have it). It's always interesting to notice something new in a well-read novel! 🙂
Rating:
+++
Jesus of Nazareth: The Infancy Narratives
By: Pope Benedict XVI
Format/Source: Hardback; my copy
In 2007, Joseph Ratzinger published his first book as Pope Benedict XVI in order "to make known the figure and message of Jesus." Now, the Pope focuses exclusively on the Gospel accounts of Jesus' life as a child. The root of these stories is the experience of hope found in the birth of Jesus and the affirmations of surrender and service embodied in his parents, Joseph and Mary. This is a story of longing and seeking, as demonstrated by the Magi searching for the redemption offered by the birth of a new king. It is a story of sacrifice and trusting completely in the wisdom of God as seen in the faith of Simeon, the just and devout man of Jerusalem, when he is in the presence of the Christ child. Ultimately, Jesus' life and message is a story for today, one that speaks to the restlessness of the human heart searching for the sole truth which alone leads to profound joy.
Aha! And with reading this book, I've successfully completed re-reading this year the Jesus of Nazareth cycle that Pope Benedict XVI wrote 🙂
But in all seriousness, it seemed apt to conclude the year with re-reading this book, especially with Christmas approaching. I always found the publication of this book last as curious, at least from a chronological standpoint. It's a very slim book, clocking in at some 120 pages, but Pope Benedict manages to cover much of the narrative surrounding the birth of Jesus in those pages, as well as theological topics of the Immaculate Conception and Joseph's role. I'm not sure what else I can say about this book except that like the previous 2 volumes except that Pope Benedict continues to do a fine job in incorporating historical events to the Gospel narrative and Catholic teachings. It stil feels a wee bit too short to really reflect on some of the wider question that he poses, but nonetheless it caps off his books and meditation of Jesus' life quite nicely.
Rating:
+++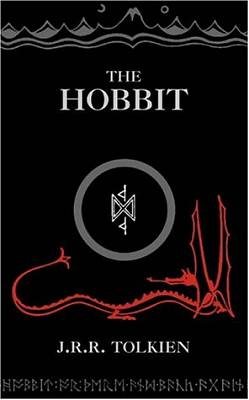 The Hobbit
By: J.R.R. Tolkien
Format/Source: Hardback; my copy
My first review of the novel
Whisked away from his comfortable, unambitious life in his hobbit-hole in Bag End by Gandalf the wizard and a company of dwarves, Bilbo Baggins finds himself caught up in a plot to raid the treasure hoard of Smaug the Magnificent, a large and very dangerous dragon…
I decided to re-read this book in anticipation for the final movie (it's become a thing in the last three years) 😛 It's always a fun book to revisit, rehash your memory a little bit on actual events (and not necessarily what went down in the movie).
A blogger recently wondered how Peter Jackson's movies would impact the way you re-read The Hobbit in the future, for better or for worse. Certainly it's hard not to read the book now and imagine Martin Freeman or Richard Armitage in their respective roles (Thranduril is a little easier because the Elvenking in the book isn't cold as in the movies). At the same time, in re-reading this book this time around, I could see and understand where the movie production decided to take allowances with and why they made the decisions they did in certain places (i.e. the corruption in Laketown).
I found myself especially curious about Lake-town this time around, I guess because it's so separate from the larger kingdoms of Men–Rohan, Gondor–and how they were the remnants of Dale. Plus, you know, Bard being a badass.
So yeah, it was nice to revisit the events of The Hobbit and follow Bilbo as he sets out on his adventure.
Rating:
+++

And those are my remaining mini-reviews of books I've re-read! Have you read any of these titles? If so, would you consider revisiting them again? Or if you haven't read any of these books, would you read them at some point in the future?

Tags: