You: A Novel
By: Caroline Kepnes
Format/Source: Advanced Reading Copy courtesy of Simon & Schuster CA
Love hurts…

When aspiring writer Guinevere Beck strides into the East Village bookstore where Joe works, he's instantly smitten. Beck is everything Joe has ever wanted: She's gorgeous, tough, razor-smart, and as sexy as his wildest dreams.

Beck doesn't know it yet, but she's perfect for him, and soon she can't resist her feelings for a guy who seems custom made for her. But there's more to Joe than Beck realizes, and much more to Beck than her oh-so-perfect façade. Their mutual obsession quickly spirals into a whirlwind of deadly consequences . . .
The premise of this novel was what piqued my attention; aside from the way the blurb ends, there's just something about that hints at something unexpected underneath the surface. I was provided an advanced reading copy of this novel courtesy of Simon & Schuster CA for review. This novel will be available on 30 September 2014.
So…this book. Let's say that the creepiness factor starts right from the first chapter: Joe is not just instantly smitten as any other person who sees someone for the first time and is instantly infatuated/love at first sight/lust at first sight/however you define this. Right after he meets Beck, he starts stalking her. And not just Facebook-stalking as one may occasionally be tempted to do when on Facebook, but legit stalking: staking out across the street, looking up bill records, hacking into emails and messages, etc, etc. It was creepy. And what creeped me out further was how he justified it as him being normal and everyone else being the weirdos.
Me: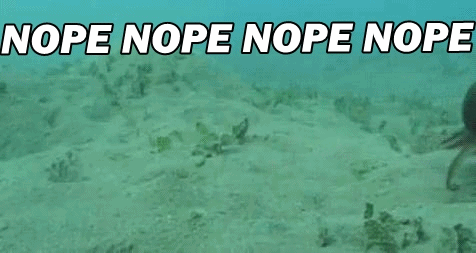 (gif source; accurate gif is accutate)
For some reason, I was expecting a lot more behind Beck's façade; perhaps I've been anticipating too much recently after reading Gone Girl (review), but the final reveal about Beck (or perhaps Joe's interpretation about the truth behind Beck) was pretty messed up. She clearly had a lot of issues to work out without Joe coming into her life and adding to things (without her really realising).
I found the first-/second-person narration a little confusing and frustrating at times. On the one hand, I totally understand why the author used it, as the reader is reading Joe's story from his perspective and therefore Beck's actions and dialogue from his point of view. On the other hand, as the reader, sometimes it's a bit hard to keep things straight, and it can be a bit of a turn-off from getting to know and caring for the characters around Joe. But again, the reader is introduced to these characters and into the story through Joe's perspective so whatever we know of the other characters is through his (biased) narration. Plus, it just adds to the overall creepiness and weirdness of the whole novel.
Overall, You was…creepy. The way that Joe follows Beck around, the events he maneuvers just to get closer to her, and some of the other things he does to the people in Beck's life are just plain alarming. There's nothing romantic about this romantic thriller (save for whatever warped notions Joe has about his connection with Beck), but also for a thriller I felt there wasn't anything particularly pressing about the story beyond Joe's slow drift towards Beck's inner sanctum and life. While the book did its job in freaking me out, the story itself wasn't for me.
Rating:
Follow the author on Twitter || Order this book from the Book Depository

Tags: