You knew this was coming 😉 (sort of) Guys, how is it that the World Cup for 2014 is already over? Seemed like yesterday it just started! Granted, I'm sure many of you are relieved that you don't have to sleep super late anymore and get up super early for the matches, and we can all go about with our lives again without scheduling our daily tasks around the matches, but nonetheless it was a lot of fun. So just to wrap up some final thoughts about the tournament…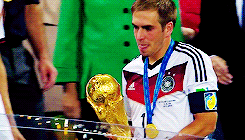 gif source
My German boys finally did it! They won the World Cup, the fourth star on their jerseys. Weltmeister! You can only imagine my flailings on Sunday when Mario Goetz scored at the 113th minute with that beautiful goal (and equally beautiful assist from Andre Schuerrle <3 ). I think I mentioned it in a Bookish & Not-So-Bookish post that I've been following the Germans more or less since 2006 and yeah, it's just been such a journey. Despite of the disappointments leading up to the tournament (Marco Reus, namely, having gotten injured just before the tournament ;_;), I'm so happy that it was this team that won: Klose, Schweinsteiger, Lahm, Podolski, they guys around since 2006…All the feels, you guys, all the feels.
So, following a bit like what the guys at The Guardian did, just summing up some of my favourite moments from the tournament 🙂
+++
Best match: Is it bad that I really want to go with Germany vs Brasil? It was a complete demolition derby and I felt really bad for the Brasil NT and their fans, but on the other hand it showcased what the Germans were capable of doing, however one-sided it quickly became. And just shock-value-wise, this match left a rather strong impression.
But demolitions aside (because Spain vs Netherlands would also be in that mix; one of the earliest shockers of the tournament), I actually enjoyed the Italy vs England match. I know a lot of people said it was boring and complained of how crappy England played (I personally think they played better than in recent tournaments I've seen them in), but I thought it was one of the nicest games I've seen in that a) there weren't that many fouls or cards and b) whenever something happened–i.e. slammed into someone–the Italians and the English would pick each other up and apologise. It was nice 🙂
Best goal: This is a hard one. For a tournament that had so many goals, I had to think of how to dwindle it down to 3. But I will try:
01. Robin Van Persie's header against Spain — Yes, there were memes and jokes about it afterwards, but it was solid. It was gorgeous.
gif source
02. James Rodriguez's goal against Uruguay — How amazing was this goal? There were like, 2/3 defence men converging on him and he just takes aim and kicks the ball right behind the goalkeeper. Amazing.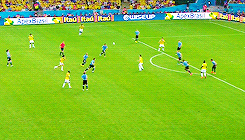 gif source
03. Andre Schuerrle's goal against Brasil — I'm still amazed about this goal–from the way he gets the ball, charges forward and kicks it–it didn't look like it was going to go in based on the angle but it does. Wow!
gif source
Special mention: of course, Mario Goetz's winning goal against Argentina 🙂

gif source
Special mention #2: And let's not forget Miroslav Klose's 16th WC goal 🙂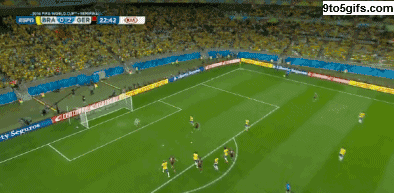 gif source
Standout player: Gosh, there's been a plethora of interesting players that have shone in this tournament. I expect great things from England's Sturridge, Sterling, and Lallana. Colombia's James Rodriguez is a given. Toni Kroos and Mario Goetz got my attention from Germany this time around. Yeah, there's some interesting players that are up and coming here 🙂
Standout goalkeeper: I would, by default, say Manuel Neuer of Germany, but it was the World Cup of goalkeepers tbh. There were sooooooooo many great goalkeepers that shone here: Mexico's Ochoa, Costa Rica's Navas, Netherlands' Cillessen, Argentina's Romero, Chile's Bravo, etc. And there are also my other faves, England's Joe Hart and Italy's Buffon, even though they didn't make it out of the group stages. Goalkeepers are awesome! (if I hadn't said that enough in the past)
Standout team: Duh, I'll say Germany 😛 However, I do want to give a shoutout to one other team that really impressed me: Australia. Yup, that's right. I enjoyed their performance here that I really wished they had just left them through the group stage because of their spirit. They played and held their ground as best as they could for 90 minutes, they scored some terrific goals…yeah, they were great.
Also, for sheer enthusiasm after scoring, I'm going to miss Colombia's dance number: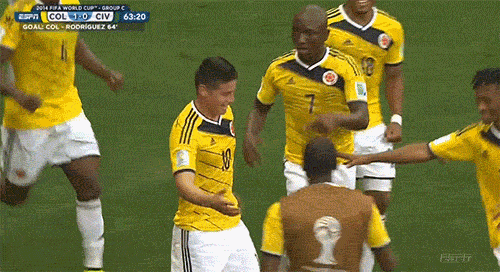 Not my gif
Biggest surprise (in a good way): Costa Rica, Colombia making it out of the Round of 16 was great. Greece hanging on for as long as they did was also a surprise–not a bad surprise (hence why it's on this side of the list), it wasn't like they were outright parking the bus like they did in previous Euros. Mexico also put up a good fight; I was dismayed that they faced Netherlands so early because I had a feeling they were going to be eliminated and I wanted to see them advance too.
Biggest surprise (in a bad way): The Germany vs Brasil match. I mean, I was praying/hoping/expecting Germany to win, but I was not expecting that outcome. I mean, the 5-0 at half-time was a shocker as in itself; the commentators, everyone on Twitter was shocked.
As a related surprise, this cracked me up to no end:

Not my gif
WTF moment: Congratulations, Luis Suarez, you get a mention on this list for that bite on Giorgio Chiellini (and the ridiculousness that came after that–Photoshop, seriously? That's your defense?). Still the biggest WTF/you didn't have to do this. Special mention goes to Pepe for that headbutt on Thomas Mueller in the group stage; ridiculous and unnecessary and totally changed the vibe of the game for Portugal. I think Cristiano Ronaldo's reaction summed it up perfectly: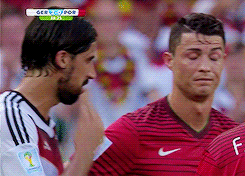 Not my gif; Ronaldo looks like he gave up on life there
Favourite moment: I actually have 2 moments:
01. Miroslav Klose scoring his 16th WC goal during the Germany vs Brasil match. OMG, I was so happy for him! Was too busy still celebrating his 16th goal when goals 3, 4, and 5 happened. Yeah…
02. I'm so sorry for being a troll fellow US bloggers/readers/fans, but I have to go with the last minute of additional time during the USA vs Portugal match. Not only was it one of those brilliant little moments where you see how much damage Cristiano Ronaldo can do–not to mention an excellent finish by Varela–but it's a reminder of how football can really swing one way or the other; you never know what's going to happen. Plus, the shocked reactions were pretty hilarious *sorry, but not sorry*
Wishlist for World Cup 2018?
I do like the idea mentioned by someone at the Guardian (and my dad) about doing away with the penalties at knock out stages and just going with 15 minute intervals of play after extra time. Penalties are around forever but it's so nerve-wrecking and it's just an odd way to end a match (I can't explain it right now, but I always found it weird). I thought they had introduced something similar to the instant replay in this tournament, but apparently they didn't (and they should).
+++
And that's my list! It was a wonderful one month of football fun and stress and awesomeness and life seems oddly quieter without it, lol (I try to keep up with the club seasons but it's hard and I don't have a channel here that airs the matches *boo!*). But I'm still grinning ridiculously whenever I remember that Germany won the World Cup so yeah, life is good, lol *goes back to reblogging everything Die Nationalmannschaft on tumblr*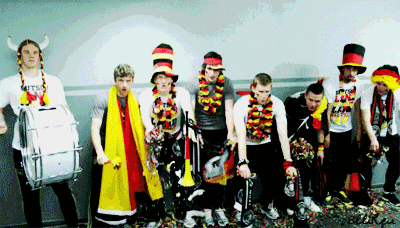 Not my gif

Did you watch the World Cup? What were some of your favourite moments? Standout players? What will you miss?

Tags: