And here we are, at the end of April xP It's been a bit of a busy month for me offline with the end of classes (exams just wouldn't end! ;_;) and the Easter long weekend (busy, though I also spent half of it rather sick =( ) so there's not to much to update re: what's been going on here at the blog but here we go…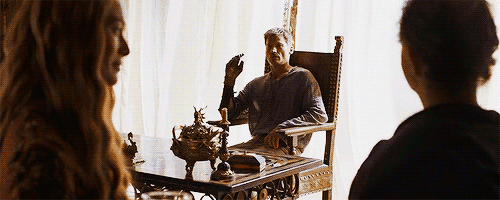 Not my gif (as always). Was all LMAO when this happened on Game of Thrones
---
Read a ton of great books this month, including Hannah Kent's Burial Rites (review), Laura Esquival's Like Water for Chocolate (review) and Rob Thomas & Jennifer Graham's The Thousand Dollar Tan Line (review). You can check out all the books I've reviewed recently in the book review tag.
I'm slowly down a bit with the ARCs given the few that are left on my to-read pile but a couple that I read some time ago have finally gone live here on my blog including The Opposite of Loneliness (review), The River Burns (review) and To All the Boys I Loved Before (review). You can check out all of the ARCs that I recently read in this tag.
New layout! Finally got around to purchasing a theme from Creative Whim 🙂 I'm still sort of playing around with the features and options and what I can do with the theme (looking forward to this part). Needless to say, I'm quite impressed.
I have a few exciting things lined up for the month of May! I signed up for Armchair BEA taking place from the 26th to the 31st; it'll be the first year that I'll be participating in this. I am also participating in two book blog tours: one for April Smith's A Star for Mrs. Blake and one for Terry Hayes' I Am Pilgrim so be on the lookout for both next month! 🙂




In the meantime, I will be taking a bit of a step back this month on some of the weekly memes I've been participating in. I'm continuing on reorganising myself and the way I've been scheduling posts ahead. Plus, this coming semester is looking a little loaded; I'm not sure how my classes will be and I'm also working on a few writing projects that I'm trying desperately to finish so there's that. Book reviews however will continue as always.
---
And that's about it from me for the month of April, lol. I'm trying to take advantage of my break from classes by reorganising my things and tidying stuff up (both online and offline) as well as working on my WIP draft (fingers crossed!). Anyway, wishing everyone a lovely May! 🙂