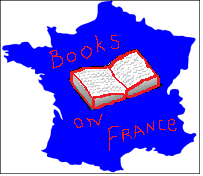 Books on France Reading Challenge 2013 hosted @ Words and Peace
And here we are, more or less at the end of the year. I was initially going to post this at the end of the month, in case I read any more books that can be included in this but given the amount of books on my to-read pile as is, I think it's safe to say that I am at the end of he Books of France Reading Challenge for 2013 🙂 This is the second reading challenge I've ever participated in, which was a lot of fun.
Just a recap, this challenge included any books set in France or contains any French themes; the full list can be found on the challenge main page hosted by words and peace.
LEVELS:

LEVEL 1, "un peu" = 3 books (one per quarter for instance)
LEVEL 2, "beaucoup"= 6 books
LEVEL 3, "passionnément" = 12 books (one/month, for instance)
LEVEL 4, "à la folie"= 52 books (one/week, for instance)
So what did I read? 🙂
TOTAL = 26 books

Wow! And I actually got through all of the books I listed for this challenge!

It's been pretty much the year of French literature for me as, thanks to this challenge, I've read quite a number of French classics ranging from Dumas to Flaubert. Did I have a particular favourite from the group? Well, there's of course a few favourites here that I re-read (Japrisot's A Very Long Engagement, Gavalda's Ensemble C'est Tout) and some new titles I enjoyed, both classics (Dumas' The Count of Monte Cristo, Flaubert's Madame Bovary) and by contemporary authors (Rutherfurd's Paris, Lafleche's J'adore Paris).

And that's a wrap! 🙂

Have you read any of these titles? If so, what did you think of them? If you participated in this reading challenge, what was your favourite book read for it?

Edit: Just a heads up that I am hosting 3 reading challenges next year for anyone who's interested in participating: Everything España, A Year in Re-Reading, and 2014 Shakespeare Reading Challenge 🙂

Tags: