When an unconfident young woman is cursed with an old body by a spiteful witch, her only chance of breaking the spell lies with a self-indulgent yet insecure young wizard and his companions in his legged, walking home.

– source
I've been wanting to watch this movie for the longest time. Then I read the book by Diana Wynne Jones (review) and absolutely loved it to pieces. I got the blu-ray for my birthday, which I was pretty thrilled about so yeah, finally got to watch it =) May contain some spoilers ahead if you haven't watched the movie and read the novel it was adapted from!
This is not my first Hayao Miyazaki movie; I had watched Princess Mononoke years ago and loved that. The art in his movies is just amazing and breathtaking and he really brings his own vision of Sophie's world to life here. It's different than the world I had slightly imagined when I was reading–there was less locomotive/steampunk elements in my envisioning of the novel–but it was stunning to watch on-screen.
Suffice to say this movie left a smile plastered on my face from start to finish. The story in the movie is a bit (or much?) different from the books–the plotline with the Witch of the Waste and her back story with Howl is toned down considerably and Howl's role with the potential for war breaking out is bumped up to the forefront–but it still contains the essence of the story. Sophie's personal struggles and glimpse about who she is is still in the forefront and some of the Howl's flamboyant aspects of his personality as well as the fundamental core of who he is is still there (though he was more of a coward in the book, but anyway). A lot of the key scenes that I remember from the story, how the castle works, the mystery of Calcifer and Howl's contract are also there so I was not bothered about the changes that were made for this movie.
Speaking of characters, I love that some of the lines from the book was in the movie, like when Howl was freaking out about his hair (what a drama queen, really, lol) and this: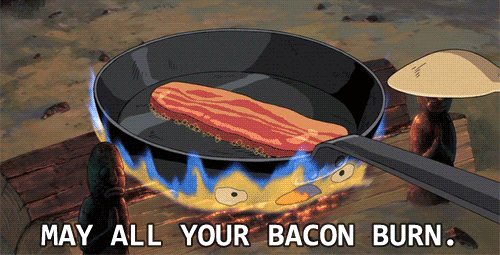 (Not mine, of course)
For some reason, this quote amuses me to no end =P
The animation in this movie is gorgeous and I love the moments where it just showed Sophie and Markl cleaning the castle, airing the laundry and sitting back and basking in the scenery around them. It was such a gorgeous moment in the movie. In fact, the scenery and framing of the entire film is just gorgeous–I was getting quite hungry just looking at the detail that went into the food they ate ;_;
The music was also gorgeous. Joe Hisaishi has such a talent and ability to capture the mood and essence of a movie. The music for Howl's Moving Castle is just wondering, waltz-like, dream-like and yet melancholic at the same time. I couldn't find a YouTube vid for it but my favourite tracks, aside from the opening, had to be from the tracks "The Secret Cave" and "The Boy Who Drank Stars", both of which I attribute to be Howl's theme song. It's just so wonderfully moving xD
Much as I love the movie, I will say that it felt a little rushed plot-wise in the second-half of the story, starting around the time after Sophie and Howl's escape from the palace and moving to Kingsbury to hide from Madame Suliman. The flashback when Sophie learns of how young Howl met Calcifer could have been a little longer and the very end could've been a bit longer too, just bask in the happiness for another 30 seconds or something. It was like boom-boom-boom from one scene to another. It didn't take away much from the overall experience but still, I wanted to just relish some of the scenes for a bit longer xP
Nonetheless, I love Howl's Moving Castle, it's such a wonderful film. It's rich with its own themes of war, identity/being comfortable with yourself, bravery, family and love. It only took me a decade to finally check it out =P
Rating:
Tags: