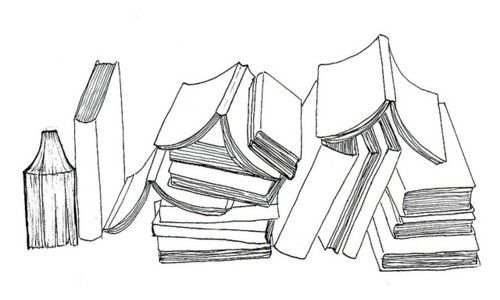 (image source)
It's hard to say that it's "literary award" season like you'd say "award season" for television and film because literary prizes are pretty much year round (well, the same goes for television and film but the big ones usually fall after each other early in the year). But a number of shortlists have been released recently that's worth checking out:
Women's Prize 2013
The shortlist for this prize (formerly known as the Orange Prize) was announced on April 16 from a very diverse longlist that was posted just a month before:
Kate Atkinson's Life After Life
A.M Homes's May We Be Forgiven
Barbara Kingsolver's Flight Behaviour
Hilary Mantel's Bring Up the Bodies
Maria Semple's Where'd You Go, Bernadette
Zadie Smith's NW
I've got my hands on Hilary Mantel's Bring Up the Bodies (which was last year's Man Booker prize winner) and I'm hoping to get a hold of Maria Semple's Where'd You Go, Bernadette and Kate Atkinson's Life After Life at some point. The winner will be announced on June 5th so we'll see if I'll be able to read at least half of this list before then =P
International IMPAC Dublin Literary Award
I found out about the longlist via House of Anansi, a publisher here in Canada. OMG, their longlist is huge but very diverse, which is cool. The shortlist was announced the other week:
Kevin Barry's City of Bohane
Michel Houllebecq's The Map and the Territory
Haruki Murakami's 1Q84
Andrew Miller's Pure
Julie Otsuka's Buddha in the Attic
Arthur Phillips' The Tragedy of Arthur
Karen Russell's Swamplandia!
Sjon's From the Mouth of the Whale
Kjersti A. Skomsvold's The Faster I Walk, The Smaller I Am
Tommy Wieringa's Caesarion
It's a very diverse list and from it, I only have Murakami's 1Q84 which has been sitting on my eReader for almost two years now. The winner will be announced on June 6th; I have no idea if I'll have any of these books, if I get to them, read by then but many of them sound interesting and will have to check them out at some point xD
Pulitzer Prize 2013
This is a very diverse prize so I'm not even going to list out everything here. This list contains all of the finalists for the categories and this list announces all of the winners. Adam Johnson's The Orphan Master's Son won for the fiction category; it sounds interesting though I never added it to my want-to-read pile and am in no rush to pick it up like the other prizes but it's something to keep a look out for. Has anyone read it? What did you think of it? (as I've also heard mixed reviews about it)
Miles Franklin Literary Award 2013 (Australian)
I came across this literary award on someone's blog and it caught my attention particularly because Michelle de Kretser's book, Questions of Travel, made it on this year's longlist and I'm currently reading an ARC of it. So here's the list of titles that made it on this longlist:
Romy Ash's Floundering
Lily Brett's Lola Bensky
Brian Castro's Street to Street
Michelle de Kretser's Questions of Travel
Annah Faulkner's The Beloved
Tom Keneally's The Daughters of Mars
Drusilla Modjeska's The Mountain
M.L. Stedman's The Light Between Oceans
Carrie Tiffany's Mateship with Birds
Jacqueline Wright's Red Dirt Talking
de Kretser's book aside, I have Keneally's and Stedman's books on my want-to-read pile. It's also pretty cool that this list dominated by female writers. The shortlist will be announced on April 30th.
2012 Nebula Awards
The Nebula Awards are like this where the winners are celebrated the year after, like the Man Literary Prize. The full list of nominees in every category can be found over here; the following are the six nominated for the "Novel" category:
Saladin Ahmed's Throne of the Crescent Moon
Tina Connolly's Ironskin
N.K. Jemisin's The Killing Moon
Caitlín R. Kiernan's The Drowning Girl
Mary Robinette Kowal's Glamour in Glass
Kim Stanley Robinson's 2312
I've heard wonderful things about Ahmed's debut fantasy novel and I've had all of Jemisin's works on my want-to-read pile for forever and a day. I've also read Kowal's first novel, Shades of Milk and Honey, a few months ago and absolutely loved it. The winner will be announced sometime in May, I believe.
And that's about it from me and some of the literary prizes that I've been keeping track of. If you're like me and like to keep track of these things, here's some key dates for upcoming awards:
Man Booker 2013

23 July – Longlist
10 September – Shortlist
15 October – Winner

Giller Prize 2013 (Canadian)

16 September — Longlist
8 October — Shortlist
5 November — Winner
I'm probably missing a bunch from the latter end of the year and stuff but the above are the major ones that I'm keeping an eye out for (well, and the Pulitzer is well known; you know).

Tags: