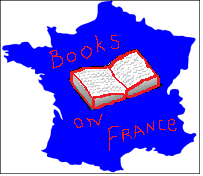 Books on France Reading Challenge 2013 hosted @ Words and Peace
I wasn't planning on signing up for a reading challenge or anything this 2013 but I noticed that I was reading a lot of books set in France lately and have a number of books on my to-read pile that's set in France or written by a French author so I figured, why not? =) Basically this challenge includes any books set in France or contains any French themes; the full list can be found on the challenge main page.
LEVELS:

LEVEL 1, "un peu" = 3 books (one per quarter for instance)
LEVEL 2, "beaucoup"= 6 books
LEVEL 3, "passionnément" = 12 books (one/month, for instance)
LEVEL 4, "à la folie"= 52 books (one/week, for instance)
These are the books I'm planning to read that are on my to-read list at present. This list is, of course, subject to change:
And naturally most of the books on my list are classics xP We'll see how this goes!
Edit: Just heard that re-reads are acceptable for this challenge. I've been hoping to re-read the following at some point so I'll add them to the list as incentive ^_~
Anna Gavalda's Ensemble C'est Tout (Hunting and Gathering; French author; set in France) — commentary
Sebastien Japrisot's A Very Long Engagement (French author; set in France) — review
Irene Nemirovsky's All Our Worldly Goods (emigrated to France; set in France) — commentary
Tags: