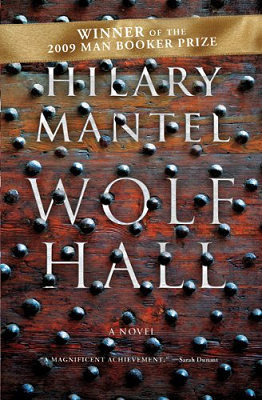 Wolf Hall
By: Hilary Mantel
England, the 1520s. Henry VIII is on the throne, but has no heir. Cardinal Wolsey is his chief advisor, charged with securing the divorce the pope refuses to grant. Into this atmosphere of distrust and need comes Thomas Cromwell, first as Wolsey's clerk, and later his successor. Cromwell is a wholly original man: the son of a brutal blacksmith, a political genius, a briber, a charmer, a bully, a man with a delicate and deadly expertise in manipulating people and events. Ruthless in pursuit of his own interests, he is as ambitious in his wider politics as he is for himself. His reforming agenda is carried out in the grip of a self-interested parliament and a king who fluctuates between romantic passions and murderous rages.
I read the book for the first time two years ago and I was honestly left feeling underwhelmed. I think this was because this book was not what I expected it to be and my expectations for it were too high, which was a pity because it really felt well-researched. Hilary Mantel went on to win her second Man Booker prize for its follow-up, Bring Up the Bodies so I decided it was time to re-visit the first novel. It's funny what re-reads can do, really. Contains some spoilers ahead!
Firstly, I learned two things while reading this book:
Read this book slowly. Wolf Hall is not meant to be a quick read…or a book to unwind to
If you had watched Showtime's The Tudors at any point, banish it from your mind when you read this
With that in mind and re-reading it for the second time, it is just utterly brilliant. My mind is blown at the way that Mantel handles the complexity of the world that Henry VIII and Thomas Cromwell lived in–the court politics, European politics, church politics, social politics, etc.–and the politiking and maneuvering that the characters engage in and the way that figures move in and out of court, in and out of the favour of the king's. There was a moment later in the novel where one of the characters remarked how the whole of Europe is setting its future–war or peace? to side with France or with Rome? to stay under the authority of Rome or to break off?–around Anne Boleyn's womb.
The way in which the politics enters in the conversation shows just how tumultuous the period was–fanaticism and stubbornness ruled the day. We identify with Thomas Cromwell's character because he seems the most grounded out of all the characters; he has seen much and is more adaptable to the situation, more open-minded to things. A job's a job to him, even as his position becomes increasingly dangerous as we follow him.
Which brings me to Cromwell himself. He is a fully-realised character; as the protagonist, the reader is naturally compelled by the character (well, almost all the time) and is naturally on the side of the protagonist. The reader feels for him when he loses his family and when he deals with the taunting and the thinly-veiled antagonism from members of Henry's court. He's a sympathetic character against the cunning and the coldness of the noblemen and women–they think him lowborn and murderous but the reader knows that there is more to him than that. At the same time Cromwell is an elusive character thanks to the narrative itself; despite following him most of the time, I still feel as though I'm missing a few bits of information about why he is ambitious the way that he is.
The other characters that Cromwell associates with were equally fascinating, Mantel really brought them to life through her prose and Cromwell's interactions with them. It's especially interesting to read them on the paper because you're never quite sure what they're up to, whether they really are out to help Cromwell or hoping to trick him or slip some sort of deal that would benefit him or her in the long run. It really reflects the whole "man as to wolf as to man" concept that's prevalent in the story; everyone really is out for themselves in Henry's court and the trick is really to outsmart everyone.
Finally, the prose is just amazing, it felt as though the narrative weaved in and out of both Cromwell's thoughts and the happenings in court and around them. If you're a fairly quick reader like myself, you should really read this book slowly because there are no breaks or italics identifying a flashback or a thought. It's lyrical and introspective at times as we follow Cromwell and his gradual ascendancy in Henry VIII's court. And on a personal note, I've at long last finally over gotten over my aversion to reading present tense in prose (I'm not sure why I'm so averse to it; probably because as a historian I'm used to writing in past tense).
Overall, I'm glad that I've re-read Wolf Hall as I was able to fully appreciate and realise the scope and strengths of this novel this time around. While some sections felt a little elusive in terms of character motive (perhaps done on purpose by the type of narration that the author decided to employ for this novel), it was a compelling read and an interesting take on such a familiar part of English history. Cromwell here is more sympathetic than I've ever read him elsewhere. I highly recommend this novel if you're into Tudor history, historical fiction and contemporary literature; I'm most certainly looking forward to reading the second book in the trilogy now!
Rating:



Tags: