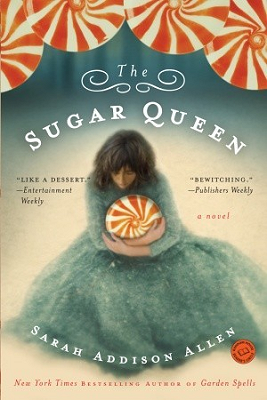 The Sugar Queen
By: Sarah Addison Allen
Josey Cirrini is sure of three things: winter is her favorite season, she's a sorry excuse for a Southern belle, and sweets are best eaten in the privacy of her closet. For while Josey has settled into an uneventful life in her mother's house, her one consolation is the stockpile of sugary treats and paperback romances she escapes to each night…. Until she finds her closet harboring Della Lee Baker, a local waitress who is one part nemesis—and two parts fairy godmother. With Della Lee's tough love, Josey's narrow existence quickly expands. She even bonds with Chloe Finley, a young woman who is hounded by books that inexplicably appear when she needs them—and who has a close connection to Josey's longtime crush. Soon Josey is living in a world where the color red has startling powers, and passion can make eggs fry in their cartons. And that's just for starters.
This is the last of Sarah Addison Allen's books that I had not read yet and once again she has put together such a story that left me awake until the wee hours of morning reading to see how everything will turn out =P Contains some spoilers ahead!
Once again Sarah Addison Allen manages to weave a story touching on the core themes of love and friendship and character journey. Other themes that she explores this time include the notions of forgiveness and independence, second chances, welcoming change, taking chances and self-esteem. I guess this novel affected me on a personal level moreso than her other novels because it touched on issues that I've been facing as of late. Josey in particular has a number of these issues to face, mainly of stepping out of her mother's shadow (and the shadow of her past) and taking a chance that would not only lead to her personal happiness but also towards truly starting her life. The other characters who populate this novel however also tackle these diferent themes, each to their own respective conclusion.
The three principal female characters were interesting and multi-faceted–Chloe, Josey and Della Lee–and it was especially interesting how connected they were and their interactions were fantastic. I enjoyed how books would appear around Chloe when needed; as a book lover and reader, I thought it was a nice touch. Della Lee was hilarious and full of spunk. The premise of this thirty-something woman appearing in Josey's closet and behaving like a teenager while proddng Josey along was rather amusing but it was also clear that there was something dark and sad that happened to her before showing up at Josey's closet.
One thing that freaked me out while reading this book was the storyline involving the slimeball Julian preying on Chloe. Chloe was already down and miserable after learning about Jake's infidelity and then he shows up…if I could (it was late at night, I did not want to wake everyone) I would have yelled at the book for her not to go with him. Definitely the creepiest sub-story I've read from Allen's novels. The other storyline that really upset me on behalf of the character was Josey's mother, Margaret, and the way she treats Josey. It made sense that their story was not fully resolved compared to all of the other character arcs but her treatment of her was really hurtful. Margaret's own personal storyline, one which involved a person from her own past, was interesting and you get a sense of why she is the way she is. Personally however it was not enough to compel me to feel truly sympathetic towards her because of her continued treatment towards Josey (not to mention her continued vainness towards her appearance).
Overall I highly enjoyed The Sugar Queen, it's probably my second favourite book by this author. The respective stories were compelling and the magical realism present throughout the story really added a sweetness to the story, especially in times when the story became rather sad or thoughtful. Again I highly recommend this author if you're looking for a light read or for something involving magical realism.
Rating:
Visit the author's official website || Order this book from the Book Depository

Tags: