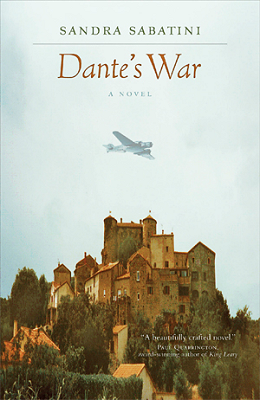 Dante's War
By: Sandra Sabatini
In this moving, dramatic novel, Sandra Sabatini explores the effects of war on the ordinary people who fought on very different fronts: in the vast wasteland of North AFrica and in the green hills of Nazi-occupied Italy. Dante and Angelina, both fiercely independent for all their youth, meet and fall in love on the eve of Dante's deployment to North Africa in 1940. While Dante becomes an accomplished mechanic, working on German fighter planes, Angelina contends with the presence of German soldiers in her small town and the evil that they introduce into her world. Apart from one another, the two must fight their own battles and summon the strength to endure in ordr to find each other again.

Rich with fascinating historical detail, Dante's War is both a tender love story and a powerful meditation on loyalty–loyalty to one's country, to one's community, and, ultimately, to oneself.
This book has been on my want-to-read list for ages. I finally got my hands on a copy recently which was very exciting. Apparently it's very difficult to get a hold of the book, I think the publisher went under recently (or something to that effect; I need to double check). One thing I have to get off my chest before I continue: the tagline reads that this is the first book that explores the Second World War "from the point of view of ordinary people on the Axis side, two young Italian lovers." I'm not entirely sure about this (although okay, I just double-checked and Lucinda Grindle's The Villa Triste (review) looks to have been first published in 2010)) but it is certainly the first book I've read focusing on the Italian experience on the North African front. But this nitpicking aside, I was looking forward to this novel and falls under my I Love Italy reading challenge. Contains some spoilers ahead!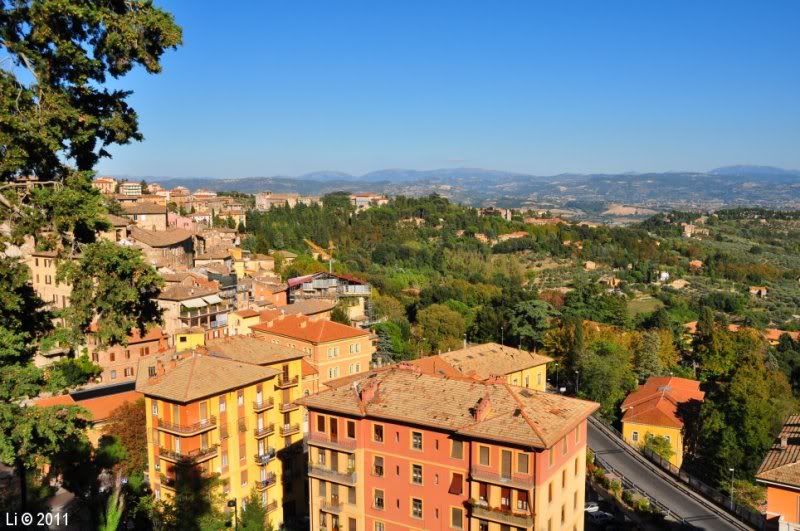 What I really enjoyed about this novel, especially in the beginning, was how Sabatini portrayed life in Italy during the late 1930s, the rise of Mussolini and the early days of the war campaign. Its scope is pretty panoramic, looking at the everyday lives of Dante di Angelis and Angelina Fiori before they met and their experiences growing up. Angelina's sleepy town was especially interesting with the resident bitter woman spewing trouble and spite wherever she went and whoever she saw (I mean, she was pretty pazza, especially during one confrontation with Angelina). Dante's story was also interesting with his struggle to get out of Spoleto and do and be something. The war gives him the opportunity to get out and he pretty much does not look back (until he meets Angelina). I think the segments of the story set in Italy–in Rome and in the countryside–were my favourites because you see how people survived during the war. You really get a sense of how secluded San Placido is yet the war affects them in other ways. I also enjoyed the various characters that populated San Placido and in Angelina's life. I only wished those segments of the story were more fleshed out with more dialogue and character interaction.
Much as I enjoyed reading this novel and reading to see how Dante and Angelina were to survive the war and reunite, it did feel a little strange pacing-wise. Once the war was in full-swing and Dante was sent to North Africa, the chronology seemed a little back-and-forth, especially when you go back to Angelina's story. Subheadings with the year I think would've helped in this case, as well as focusing more on individual events rather than covering massive periods of time and experiences in a few pages. This would have especially helped that connection between Dante and Angelina; while the start of their relationship was pretty cute, I felt like the reader was missing something in their relationship that enabled it to survive the distance. Apparently hundreds of letters were sent between them but because we only saw and heard of a few, it seemed rather little and left me wanting, even after Dante and Angelina's happy reunion. Towards the end events also felt super-rushed, from the Germans' brief interim in San Placido to the search for partisans roaming in the mountains and the countryside to Dante's return to Italy.
Overall Dante's War is an interesting novel looking primarily at the Italian experience of the Second World War. It was great that this novel looked at the North African front of the war (a part of the war that I don't often see in novels–Michael Ondaajte's The English Patient (review) touched on it briefly) as well as the Italian experience in the smaller, rural towns (kudos that it was set in Umbria =D). I appreciate the author's use of Italian words and phrases here and there (in part because I could understand it lol) but I did find it a little awkward afterwards that certain words that were already introduced earlier were still being translated afterwards. But that's a minor thing. I would recommend this novel if you're into books set in Italy or into books set during the Second World War.
Rating:
Read the author's profile on Wikipedia || Order this book Amazon.ca

Tags: