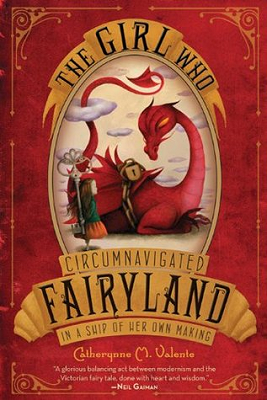 The Girl Who Circumnavigated Fairyland in a Ship of Her Own Making (Fairyland #1)
By: Catherynne M. Valente
Twelve-year-old September lives in Omaha, and used to have an ordinary life, until her father went to war and her mother went to work. One day, September is met at her kitchen window by a Green Wind (taking the form of a gentleman in a green jacket), who invites her on an adventure, implying that her help is needed in Fairyland. The new Marquess is unpredictable and fickle, and also not much older than September. Only September can retrieve a talisman the Marquess wants from the enchanted woods, and if she doesn't . . . then the Marquess will make life impossible for the inhabitants of Fairyland. September is already making new friends, including a book-loving Wyvern and a mysterious boy named Saturday.
The title's a bit of a mouthful to say and type but it really does catch your imagination as to what the book is about. This is the second title by Catherynne Valente, the first being Palimpsest (review). I had been watching out for this book to hit paperback for a very long time now because the story sounded interesting and the cover looks beautiful. I was excited when I finally got my hands on a copy. And so should you =P
What can I say about this book? It's absolutely wonderful; it has a sense of familiarity with its fairy tale prose and components (a magical world, a child protagonist, allies and enemies along the way, a lesson to be learned, etc.) but at the same time it's refreshing because it feels as though I've never really come across these myriad of spirits or this type of antagonist (at least in YA/fairy tales) or the various things that September has to do along the way. I can't remember if it was a user on GoodReads or a professional reviewer who noted that it's like a cross between The Wizard of Oz and Alice in Wonderland; I guess the story is in a way, but at least it's less trippy than Alice in Wonderland. Like Palimpsest, Valente has a unique and creative vision and the worldbuilding present in this book clearly reflects it (the Capitol made out of cloth certainly places an interesting visual in my mind!).
The characters that you come across in this novel are fantastic and you really grow to like them right away. September in a way represents every reader: she's well-read and she longs for adventure. She knows what the hero of the story has to do but faces all the emotional and physical obstacles and drawbacks along with it. She's a charming hero you can relate to and it's lovely to see her overcome her fears and muster her courage along the way. Her trusty companion Ell the Wyverary was also a joy to read about especially in his interactions with September as well as all the other secondary characters that September meets along the way.
What's especially surprising about this novel are those little bits of wisdom you come along while reading the book and how dualistic those messages can be: the notion about dealing with the future, about growing up and how different adults see the world compared to children, about admiting your fears but facing them all the same. It can be hopeful but it can also be bittersweet and Fairyland definitely likes to remind its visitors that some things do come with a price. They can be interpreted one way or the other depending on where you are in life but it's something to appreciate because the author handles these themes so well. As an adult reading this, some of these themes definitely hit home, especially in retrospect.
Overall The Girl Who Circumnavigated Fairyland in a Ship of Her Own Making is a wonderful and exciting novel, rich with detail and reflective words of wisdom but also some great character moments. Naturally there's a hook towards the end that implied that another volume is on its way (I believe it's coming out sometime later this year) so I'll be sure to check it out at some point! In the meantime there's this gem to check out: The Girl Who Ruled Fairyland — For a Little While (which I believe takes places before the events of this novel).
Rating:
Visit the author's official website || Order this book from the Book Depository

Tags: