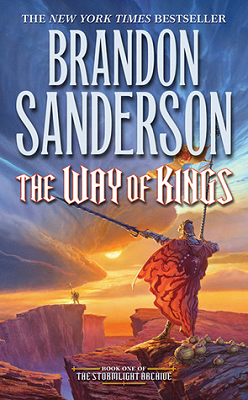 The Way of Kings
By: Brandon Sanderson
Roshar is a world of stone and storms. Uncanny tempests of incredible power sweep across the rocky terrain so frequently that they have shaped ecology and civilization alike. Animals hide in shells, trees pull in branches, and grass retracts into the soiless ground. Cities are built only where the topography offers shelter.

It has been centuries since the fall of the ten consecrated orders known as the Knights Radiant, but their Shardblades and Shardplate remain: mystical swords and suits of armor that transform ordinary men into near-invincible warriors. Men trade kingdoms for Shardblades. Wars were fought for them, and won by them.

One such war rages on a ruined landscape called the Shattered Plains. There, Kaladin, who traded his medical apprenticeship for a spear to protect his little brother, has been reduced to slavery. In a war that makes no sense, where ten armies fight separately against a single foe, he struggles to save his men and to fathom the leaders who consider them expendable.
I've been a fan of Brandon Sanderson's works since I first read Elantris a number of years ago. His imagination is just endless and unique and he crafts such great stories that are just rollercoasters. I was excited when I heard that this book was coming out; it sounded pretty epic, and it was only a matter of time before he was going to publish his own epic series (since he's currently finishing up Robert Jordan's The Wheel of Time series). May contain some spoilers ahead!
Firstly, the world-building is quite colossal in this novel, introducing not only the strange landscape in which the story takes place in but also the society and the systems in which all of the characters operate in. Sanderson has previously impressed me in his other books in crafting such interesting worlds that are unique and yet completely plausible. With the vision and length that this story is going to take, it makes sense that his world-building would move up a few notches and it shows. The main characters introduced come from different levels of society or at least interact with different segments of the society that they reside in. It's well-rounded in that sense but at the same time I get the feeling that we've only scratched the surface of what this world is really about. To be honest it did take me a while to get used to the way things were in this novel because everything is new and there's a lot of information to take in.
But for all of its breath-taking world-building and its intricate and unique histories, I did have trouble with this novel. Granted, it is the first novel in the series and is bound to get even more complicated, but it took me a while to get into the story. And I mean, I was getting concerning 400 pages in because I found myself not really excited to turn the next page or really forming any sort of strong emotional connection with the characters featured like I usually do with his other works. The story picked up for a while but my mind started wandering around around the 700 page mark. Again, I became concerned but I was also starting to wonder where the story was actually heading. You have a vague sense that there was something big coming and that all of the characters will be involved at some point but for the most part the characters are left on their own storylines for most of the novel. I don't mind this, it's great character development and getting a sense of who these individuals are but at the end, I felt it was starting to drag a little; Kaladin's chapters especially where beginning to drag. But the novel does pick up in the last 200 pages; I was literally like "Yes, finally, everything is picking up and the characters are suddenly all bad-asses!" I'm curious to see how everything will play out in the next novel given the places that all of the characters end up by the end of the novel.
If anything, I think the story dragged because their respective storylines needed to be caught up to a certain point by the end, particularly between Kaladin and Prince Dalinar. The chapter distribution was a little strange IMO; the back of the mass paperback alluded that there were four principal characters that we will be following–Kaladin, Shallan, Prince Dalinar and Szeth–but I found that while Kaladin was featured prominently, Dalinar and Shallan's chapters were spread out for long periods of time and Szeth, who I personally thought was really interesting, had the least amount of chapters. There were also other small chapters featuring other characters and I wasn't sure how they all fell in with the story (save for the last character at the very end of the novel). My favourite chapters was with Prince Dalinar's as he deals with the court and what everyone believed to be his slow descent into insanity.
Overall, The Way of Kings is an intriguing introduction to the world of in which The Stormlight Archive will play out. It's big, the magic systems and religions featured are fascinating and the characters are well developed. It's certainly set out to be an epic ride. At the same time, I personally wasn't as enthralled as I thought I would have been and thought some parts of the story dragged out longer than I thought they would, leaving me more listless than I thought. Fans of Robert Jordan's Wheel of Time series and Steven Erikson's The Malazan Book of the Fallen will highly enjoy this series as I think the pacing is similar.
Rating:
Visit the author's official website || Order the book from the Book Depository

Tags: