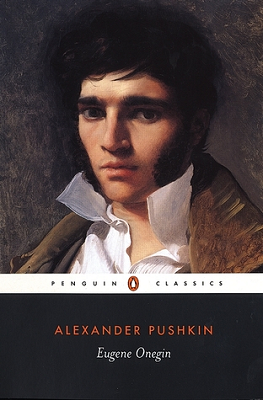 Yevgeny Onegin
By: Aleksandr Pushkin
Tired of the glitter and glamour of St Petersburg society, aristocratic dandy Eugene Onegin retreats to the country estate that he has recently inherited. There he begins an unlikely friendship with the idealistic young poet Vladimir Lensky, who welcomes this urbane addition to their small social circle and introduces Onegin to his fiancée's family. But when her sister Tatyana becomes infatuated with Onegin his cold rejection of her love brings about a tragedy that encompasses them all. Unfolded with dream-like inevitability and dazzling energy, Pushkin's tragic poem is one of the great works of Russian literature.
Yevgeny Onegin is considered by many to be the greatest work in Russian literature; not to go into too much detail, it's considered a crowning achievement not only because of the story and all of the elements and themes associated with it but because of Pushkin's use of the Russian language. During the time that Pushkin wrote this work, French was still considered to be the primary language for the arts. I actually have a copy of this book in Russian but given my elementary knowledge of the language, I opted to read it in English instead (especially as this book has been sitting on my shelf for about two years now). May contain some minor spoilers ahead!
To be honest, this is one of those books that I'm going to have to re-visit at a later date, not because it was bad or anything but I primarily read it for the story. There's a lot going on in this book, a lot of subtlties and commentaries that is typically found in Russian literature. There is also the challenge that this story is written in stanzas, something I'm not entirely used to (but will have to as I have the Kalevala sitting on my shelf waiting to be read); as a result, sometimes it seems that the story is wandering off to commentary and impressions and away from the core story (despite coming from the characters themselves), hence my need to re-visit the story at a later date. But the verses are gorgeous and despite of reading the translation rather than the original, one can tell that Pushkin really had a way with words.
But going back to the story itself, it's a pretty straightforward one with plenty of themes at work through the characters. Yevgeny Onegin is an arrogant but world-weary man, bored by the never-ending pagaentry around him and by life itself; in many ways he is the prototype of the bored characters that would come along later in literature and television. As a reader you are given a glimpse of this weariness, this sort of disdain he has for the world tha the lives in and nothing can abate him from it, not even the love of a young, sheltered but passionate woman like Tatiana. Tatiana is also a fascinating character who is faced with this feeling of love for someone and is unable to express herself except through writing. There's also Lensky, Onegin's only friend, who is in many ways different and far more romantic and passionate about the world around him. We never get much perspective on Olga, Tatiana's younger sister and the woman of whom Lensky loves and adores.
Nonetheless, these core characters were fleshed out carefully by Pushkin, provided with enough stanzas explaining why they behaved and were opinionated the way they were. It's interesting how Pushkin manages to do this because I actually found myself associating with some of these characters and feeling sympathetic to their plight. It's also interesting because the two couples–Onegin and Tatiana, Lensky and Olga–both reflect and counter each other in a couple of ways. Onegin and Olga act more thoughtlessly (albeit Olga is more unaware of her actions compared to Onegin, who acts out during Tatiana's namesday party out of frustration and anger for all of the nonsense going on around him) while Lensky and Tatiana are more feeling and passionate. In the end, all of their fates–a tragic duel, a love story ending, a dream shattered–are affected by Onegin's actions, which is very tragic. For a man who doesn't wish to submit to social convention or contribute to the world view, he certainly leaves a dire mark on people's lives.
The love story between Tatiana and Onegin is also tragic in terms of timing and the concept of understanding both oneself and the way in which they regarded one another. Onegin initially rejects Tatiana in a way in which he thought was a kindness (despite of feeling something towards her), providing her with life lessons down the road about the cold reality of life, the passage of time and about people. In a way, Tatiana's worldview had to challenged anyways since she had lived such a sheltered life but it was a hard lesson; when she visits his home after he had fled, she started seeing the darker aspects of his personality, wondering if there was really an Onegin underneath all of the flair and culture that was about him. In the end when Onegin sees her again, she is fully transformed into a functioning woman of society, behaving with all of the proper etiquette and expectations of her station. Something in her behaviour rekindled an emotion that he had suppressed all of these years ago yet it was too late on his part; Tatiana made her decision and was determined to stick to them. Onegin had come to love Tatiana too late to salvage any happiness for either of them. It's not only sad in a sense that their timing was off but also because they finally presented each other's feelings for one another–despite of convention and all of those other feelings of fantasy and wariness–only to live the rest of their lives with that knowledge apart. Illusion and reality play a major role, both in their own personal struggles but also in their unfulfilled love.
Onegin's particular development over the course of the story was also interesting in that it's a cautionary tale. All of his young adult life he walked around wary of society, of the trends and values that it espoused and even its merits. He did not value people because in a way he foresees the negative reprecussions that went along with forming meaningful relationships, of the possible decay of those bonds down the road. I think he was either afraid of that potential for hurt down the road or he just thought it was altogether best to skip that part of life. As a result, he is careless of the people around him; on the one hand he refuses to bow down to convention or allow it to shake his fortitude but on the other hand he just refuses to take that extra step about feeling for another human being. It becomes his undoing at the end: he loses his only friend and the chance to be happy. The man we see at the last chapter of the story is a man who has spent the most of his life running away from his feelings that in the end, he's left with nothing. It's tricky and yet he has no one to blame for the way things turned out for him.
Overall, Yevgeny Onegin is a fascinating character study and a tragic story all around. This is not the first story I've read by Pushkin but it certainly solidifies my opinion of him as a great storyteller and a gifted lyricist and observer. I look forward to re-reading it sometime in the future, this time with my Russian social-and-cultural thinking cap on.
Rating:
Read Aleksandr Pushkin's biography on Wikipedia || Order this book from the Book Depository

Tags: