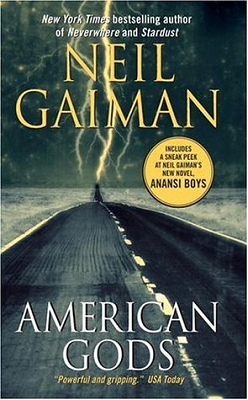 American Gods
By: Neil Gaiman
After three years in prison, Shadow has done his time. But as the days, then the hours, then the minutes, then the seconds until his release tick away, he can feel a storm building. Two days before he gets out, his wife Laura dies in a mysterious car crash, in apparently adulterous circumstances. Dazed, Shadow travels home, only to encounter the bizarre Mr. Wednesday claiming to be a refugee from a distant war, a former god and the king of America. Together they embark on a very strange journey across the States, along the way solving the murders which have occurred every winter in one small American town. But they are being pursued by someone with whom Shadow must make his peace… Disturbing, gripping and profoundly strange, Neil Gaiman's epic new novel sees him on the road to finding the soul of America.
I actually read this book last year but never got around to writing a review of it. I was prompted to read it the first time after I had heard that HBO was planning on adapting it to a miniseries. This was exciting, especially as I had heard good things about this novel (I was a fan of Neil Gaiman's before I read this book, having read other works like Good Omens (with Terry Pratchett), Stardust, The Graveyard Book and Neverwhere). However, when I read it, I came out of it unsure of what I was supposed to get out of it or whether I even enjoyed it. So I decided to put it aside and revisit it at a later date. May contain some spoilers ahead!
Upon re-reading this novel, what struck was the description of events and the setting in which the overall story takes place. It's a whirlwind trip through a good chunk of America both physically and on a mythical level; some of the stories also take place in the past, infusing folklore and stories of the old gods' migration to the New World. It's an impressive amalgamation of these stories and as I was reading it, I was convinced that this novel would be far more stunning as a graphic novel or as a television series. I find Gaiman is a very visual storyteller and a lot of the sequences would transfer very well in another medium. I also enjoyed the myriad of gods and figures of folklore that moved in and out of the story and had a lot of fun trying to figure out who was who before they revealed themselves to Shadow. It's a clever way of showing how the gods of old would survive in a world like ours, kind of like what Phillips did in Gods Behaving Badly.
I think where I had trouble with this novel the first time I read it was the character of Shadow himself. He is the central figure of the novel, our gateway between what we know as normal and the world of the gods, belief and lore. While its obvious from the very start that there is something peculiar about Shadow, it's not until the final act of the novel that that peculiarity is revealed and even then that revelation doesn't make up for the way that Shadow moved throughout the novel, accepting things as they come along, never really showing any sort of excitable emotion, happy or angry. His dead zombie-like wife, Laura, points this out during one of their scenes together, questioning whether he really was alive. Indeed, the man practically had no opinions of his own and just went with things. Earlier revelations like Lauran cheating on Shadow while he was in prison was a sucky revelation and yet a) Shadow doesn't really show or seem to act as though he was grievously hurt by it despite saying that he hurt and b) as a reader you never really feel that empathic tug for the character. Somehow you manage to root for the character all the way through as things get stranger and stranger but to the very end I never really felt much for the character or felt truly satisfied by the closure.
Secondary characters however were interesting in their own, Gaiman-esque fashion. Mr. Wednesday was intriguing and amusing in his own right and the final revelation made sense though it was sad in its own way. Mr. Nancy was also interesting and I am curious to check out Anansi Boys to read more about his character. My favourite secondary lore characters have to be Chernobog and the Zorya sisters; their interactions with Mr. Wednesday and Shadow were fantastic and naturalmente I'd be interested in characters with roots in Eastern Europe. I also enjoyed Shadow's time in Lakeside with the townfolk, it was an interesting infusion of "normal" amidst everything that Shadow had seen and experienced up to that point.
Overall, I greatly enjoyed reading American Gods in this re-read. This time around I've come to appreciate the overall story and the infusion of the old and the "new" gods into the story. However, I'm still left feeling unsure about the character of Shadow; at the end of the novel I definitely noted some subtle character development on his part but he still walks around like before so it is difficult to say whether he has changed or not after everything he experienced. I'm also not sure about the overall notion that unlike the gods, humans are content to roll along without much of anything going for them; I'm choosing to interpret that line in the book as a reflection of Shadow more than as a general observation because it just seems so bleak (unless this is what the author was aiming for). Nonetheless, I'm giving this book 4 stars (it was previous 3 stars in my mind) because I really enjoyed the scope of the novel and the overall story.
Rating:
Visit the author's official website || Order this book from the Book Depository

Tags: