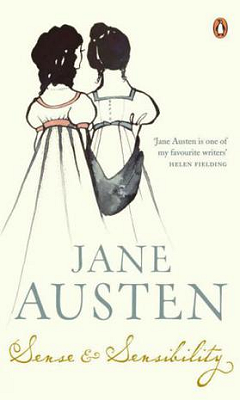 Sense and Sensibility
By: Jane Austen
Marianne Dashwood wears her heart on her sleeve, and when she falls in love with the dashing, but unsuitable John Willoughby, she ignores her sister Elinor's warning that her impulsive behaviour leaves her open to gossip and innuendo. Meanwhile Elinor, always sensitive to social convention, is struggling to conceal her own romantic disappointment, even from those closest to her. Through their parallel experience of love – and its threatened loss – the sisters learn that sense must mix with sensibility if they are to find personal happiness in a society where status and money govern the rules of love.
I recently re-read this book because I'm writing an article about it (sort of) for the upcoming issue of Femnista; the first time I read this book was probably seven years ago when, after re-reading Pride and Prejudice (commentary) and deciding to get around to all of Austen's other works. It's one of her other more prominent work and is actually my second favourite work by her (the first obviously going to her last novel, Persuasion).
Like some of my other re-reads, the following entry is not a review of the novel but rather a commentary of things that I picked up on this time around. CONTAINS SOME SPOILERS AHEAD!
I totally understand that some people who have read Pride and Prejudice may find this book dry, boring and/or difficult to get through. Sense and Sensibility was written and published earlier than Pride and Prejudice and that time gap is notable in the sentence structure. There's also not as much dialogue going on in this novel; a lot of the conversations instead are related by prose, with only the most important dialogue being relayed. This allows a lot of leeway when it comes to interpretation and book-to-movie adaptations, as was seen in the 1995 and 2008 versions. But going back to the lack of dialogue and the notable "older" forms of sentence structure, it also means that one should not skim through this book (I learned this a bit of the hard way as I was reading this time around because I was also making notes).
One thing that's always frustrated me about Sense and Sensibility (as a reader being involved in the story and not as a hinderance or negative criticism of any sort) was how the Dashwoods–Mrs. Dashwood, Marianne and maybe Margaret (poor Margaret, she's often forgotten because she's the youngest of the three sisters)–often neglected Elinor. This was obviously intended from a narrative standpoint to highlight how different Elinor was when it came to displaying her emotions; some would say even proper, socially acceptable. But that doesn't mean that she can handle everything on her own without emotional support, she just doesn't express it the same way nor does she want to have people worry over her. That's just how she is. And it's frustrating to see how her family just dismisses her as being unfeeling at times. I like that the producers from the 2008 adaptation suggested that perhaps Elinor is closer to her father in that respect, that they're more reserved but deep-feeling that way. Maybe I'm just being overprotective of Elinor because I find myself relating to her on such a level but I'm glad that Mrs. Dashwood realised towards the end that Elinor needed her just as much as Marianne, even if Elinor did not always show it.
I think I've also come to a full understanding of Edward's mistake. The first time I read it, I wasn't quite sure why, and I'm quoting the 2008 adaptation, Elinor said that Edward "did not deceive [her]." Edward was hiding an engagement, which was a pretty bad thing to do during this time period and just as hurtful as all of the things that were happening with Marianne and Willoughby. But although Edward never told Elinor of the engagement and she had to learn of it from the, simply put the trolling, Lucy Steele, he never led her on. True, she definitely felt that there was something between them (and lol that she later berates her about that) but he never gave her empty promises or led her on. That she was able to still think well of him ahead of her own hurts is just as amazing and admirable.
In a way, Sense and Sensibility raises the question–in my mind, at least–of the lines between what is expected of you and doing what you want without feeling inhibited by other peoples' criticisms. Marianne is the very embodiness of excessive sensibility but also of acting without considering what is proper and what is rude. She says what she feels and does what she wants, leaving Elinor to cover up for her and take on the role of what is sensible and polite (sometimes a little too often, which again rouses my sense of overprotectiveness over Elinor's character and my aggravation of Marianne). Yet on the flipside, Marianne is not retricted to social conventions and expectations; if there's anything restricting her, it's the fact that everyone else abides by these conventions and expectations. In this sense, this theme is pretty universal and can be applied to our contemporary day.
Hmm, there's no quote that particularly stands out for me in this novel, at least this time around…well, actually there was one line that stands as bit of a punch to the gut so to speak. Marianne was distressed over Willoughby and she tells her older sister
"You who have confidence in no one!"
Marianne tells everyone what she thinks and feels; nothing is a secret to her. Granted, Lucy's secret was told in confidence so Elinor is unable to unload her feelings of unhappiness to anyone but at the same time it is a fault; she doesn't want to trouble anyone to the point that she does not tell anyone what she's really feeling. It's also a curious statement because it reveals the nature of Elinor and Marianne's relationship; they do look out for each other (Elinor moreso but Marianne does her part too later in the novel) and they are close but not to the same degree as Pride and Prejudice's Jane and Elizabeth where they confide in each other completely.

Now I should go and pop in either the 1995 or 2008 adaptation. Well, maybe sometime this week. So many things to watch/read/fill out and take care of, so little time =P

Tags: