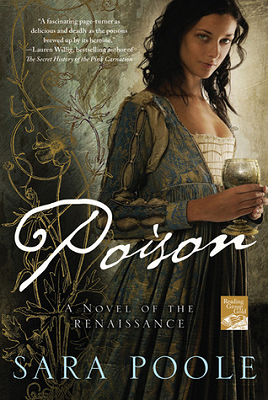 Poison
By: Sara Poole
In the simmering hot summer of 1492, a monstrous evil is stirring within the Eternal City of Rome. The brutal murder of an alchemist sets off a desperate race to uncover the plot that threatens to extinguish the light of the Renaissance and plunge Europe back into medieval darkness.

Determined to avenge the killing of her father, Francesca Giordano defies all convention to claim for herself the position of poisoner serving Cardinal Rodrigo Borgia, head of the most notorious and dangerous family in Italy. She becomes the confidante of Lucrezia Borgia and the lover of Cesare Borgia. At the same time, she is drawn to the young renegade monk who yearns to save her life and her soul.

Navigating a web of treachery and deceit, Francesca pursues her father's killer from the depths of Rome's Jewish ghetto to the heights of the Vatican itself. In so doing, she sets the stage for the ultimate confrontation with ancient forces that will seek to use her darkest desires to achieve their own catastrophic ends.
I actually picked this book up on a whim at the bookstore (a result of one of those visits to the bookstore where you're just browsing and not looking for anything in particular–it was going for a low price). What caught my attention was that it was set in Rome (been going through this mood for everything Italian lately xD Helps that this book can be included in the I Love Italy Reading Challenge)) but I also found it interesting that the main character is a woman employed as a poisoner; you just don't hear about that very often when studying history. After finishing some non-fiction novels and classic literature lately, I needed something a little more fast-paced. May contain some mild spoilers!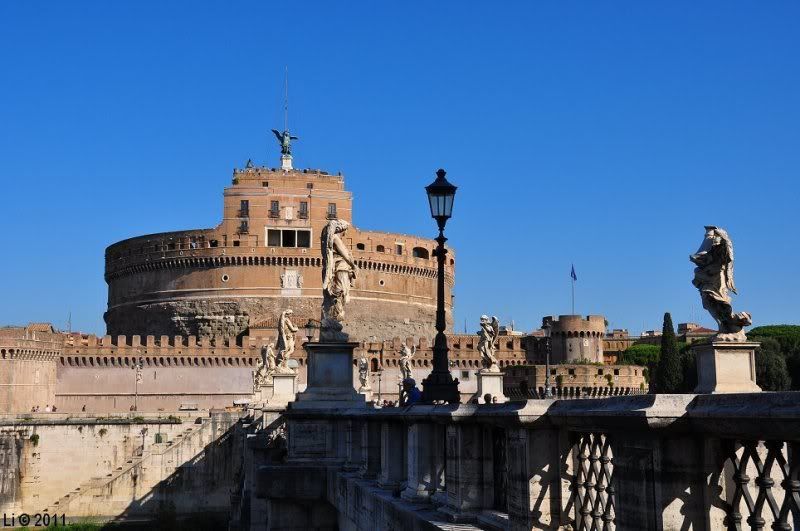 What is really interesting about Poole's novel is how early modern Rome is presented in the novel. This period of Italian history/Roman history/history of the Catholic Church can sometimes bring one's head into a tailspin with the crush of names and dates and their impact to the period–everyone just seemed to have done something to put their name in the history books during this time. But the reader gets a sense of how busy the city was at this time, despite of its state of near-chaos. With the Borgias involved, you also get the sense of the political situation at the time, vying for the Throne of St. Peter and the discrimination that the Italians had against the Borgia family. Addtionally, Poole introduces the plight of the Jews during this period, which is interesting because the Inquisition was certainly picking up and spreading during this time. It was a pity that I was not able to see the Jewish Quarter when I was in Rome (at any point) as this is the second time that I've read a novel where the area was referenced.
The strength of this novel lies in the plot itself. It's fairly fast-paced as Francesca, the main character, carries out her duties to Rodrigo Borgia and her revenge against those who killed her father. She is quickly embroiled in a larger political conspiracy (here the author took some liberties with the historical course of events, but it was entertaining so I let the historian side of me rest easy on that). There's a lot of sneaking around and investigating involved so one is not bored with the passage of time.
However, I did find myself having a hard time reconciling with other details of the novel. Although it was pretty nifty to see a female poisoner at work (and employed to a major house nonetheless), I wasn't sure how I felt about the way she was able to move through town and take part in searching for a mad priest without objection. While that would be detrimental from her ability to witness some of the developments, she is working in a time period where women did not have as much mobility or freedom as we do today. It would have been nice to see more tension about her taking over her father's position, beyond the occasional shout of "Strega!" (Italian for "witch"). I also wasn't convinced about her characterisations of the Borgias; for example, Rodrigo comes off as enigmatic but you never quite get a sense that he really is a dangerous person you don't want to mess with. Cesare gradually becomes more prevalent towards the end of the novel but sadly you don't see too much of Lucrezia.
But I think my biggest detraction from the novel has to do with the writing itself. The book is written in first-person narrative from Francesca's point of view, which works in that we see the story unfold from her perspective. At the same time though, there were a lot of moments where I really did not need to read her dry or sarcastic comments about an individual or the way in which La Familia operated. If this novel had been written in a third-person narrative, I don't think it would have drawn the reader away from the novel; in some ways I think it would have tightened up the story and the language a bit.
Despite of these things, I was entertained by Poison. It was fast-paced with enough suspense to keep the reader going. Poole introduced a fascinating character and she really brought fifteenth century Rome to life in this novel. I would recommend this novel if you're into historical fiction, books set in Italy or a quick, entertaining read.
Rating:
Visit the author's official website || Order the book from the Book Depository

Tags: