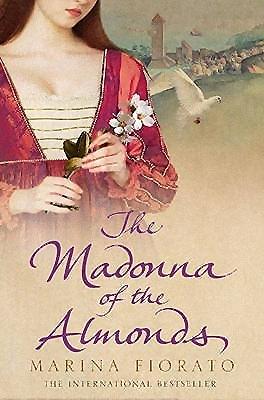 The Madonna of the Almonds
By: Marina Fiorato
Young widow Simonetta tries to rebuild her family in 16th century Saronno, tuscany, following the death of her husband in one of the battles ravaging the land. In pursuit of a means to keep her estate together, she stumbles upon a new drink made by inffusing almonds with alcohol. At the same time, she encounters Bernadino, the protege of Leonardo da Vinci. What follows is a glorious story of passion, betrayal, warfare and bravery.
I've read two of Marina Fiorato's books last year, The Glassblower of Murano (review) and The Daughter of Siena (review), so I was looking forward to reading this book. I've mentioned this a few times but for whatever reason this book has not been published by the same publisher here in North America; however, it was available on the Book Depository. I also read this book as part of the I Love Italy Reading Challenge that I'm participating in. Some spoilers ahead!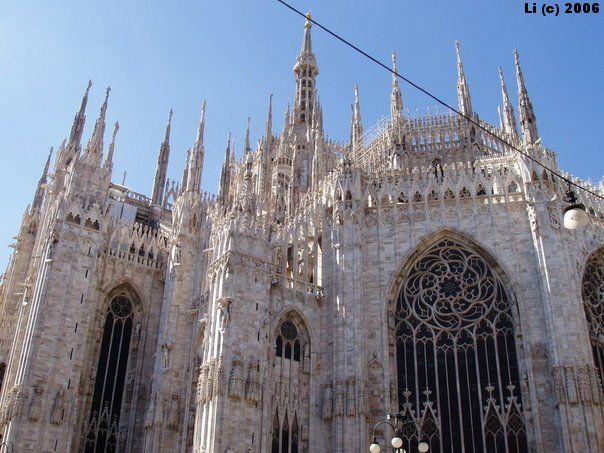 What's intriguing and wonderful about this novel is that it delves in a period of Italian history that I'm not entirely familiar with. Back then, Italy was not united but rather independent regions and city-states, some affiliated with/vassaled outside powers. The period in which this novel takes place in, Lombardy is under the Spaniards. It's nice to read about Milano (pictured on the side) and Pavia, cities that I've been to back in 2006. It's funny because I had gone to Pavia for a conference, having no idea how prominent a city Pavia was way back then. The geography of the region is obviously different from the watery Venezia in The Glassblower of Murano and the historic Siena in The Daughter of Siena in such a way that makes me want to revisit the region one of these days. The wars and the politics that are briefly touched in this novel contextualises the period that these characters inhabit and play a role in how certain events played out.
There's a lot of elements working in this novel, from the rediscovery of love to the consequences of war to the question of faith and the plight of the Jewish people during this period. The latter was especially interesting, particularly after knowing how bad it had been elsewhere. However, the story touched on so many different themes and moved in such a quick pace that the themes seemed to have been explored in a touch-and-go manner. The subject of the Jews in Lombardy, while interesting, seemed to lack in something; Manodorata's plight was hard and sad but the overall theme seemed abruptly resolved after its dire outcome. Its resolution also more or less ended the larger, geopolitical strand associated to the characters of this novel. One particular theme however that fleshed out in a rather natural manner was that of Bernardino Luini's gradual exploration of the Christian faith. Out of everyone's character development in the story, his was the most interesting, from a man of little faith and some emotional baggage to boot to a happy and fulfilling life. The chapters dedicated on his perspective to his art was also interesting to read, how his love for Simonetta reflected in his work.
The characters in this novel were also interesting, from the strong and innovative Simonetta di Saronno to the serene Sister Bianca. But like the themes of this novel, the characters are not explored enough (minus Simonetta and Bernardino) to warrant a sense of attachment and empathy to their plight. Amaria's story was sweet–that of discovering love–but her appearances are short and somewhat detached from the main storyline that it's hard to truly feel connected to the character. There is also one character storyline that was pretty predictable a third into the novel, which somewhat adds to the anxiety of "How is this going to affect Simonetta and Bernardino?" rather than be a surprise on its own. Speaking of Simonetta and Bernardino, I thought the initial build-up to their relationship was rushed; we saw it mostly from Bernardino's perspective and I was never fully convinced of Simonetta's change of heart towards him because it happened so quickly. When they were separated from each other just as they finally came together, their relationship became much more compelling and satisfying.
Despite of the rushed feeling I got from reading some of the plot developments and the exploration of the themes, The Madonna of the Almonds was an interesting read and kept me going to the very end. It was nice to read a novel that was set in this particular region of Italy and it was fun to learn about the artist Bernardino Luini (you can read up a little on him and see some of his works on his Wikipedia page). The novel was not as tight as her later work, The Daughter of Siena and you can see Fiorato working with a number of different narrative styles to present the story. I would nonetheless recommend this book if you're into reading novels set in Italy.
Rating:
Visit the author's official website || Order this book from the Book Depository

Tags: