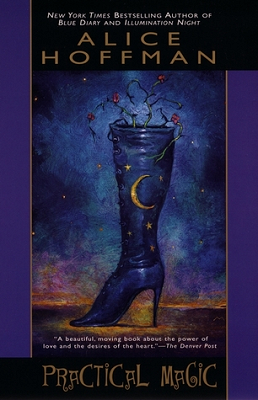 Practical Magic
By: Alice Hoffman
For more than two hundred years, the Owens women have been blamed for everything that went wrong in their Massachusetts town. Gillian and Sally endured that fate: As children, the sisters were forever outsiders, taunted, talked about, pointed at. Their elderly aunts almost seemed to encourage the whispers of witchery, with their darkened house and their love concoctions and their crowd of black cats. All Gillian and Sally wanted to do was escape. One would do so by marrying, the other by running away. But the bonds they shared brought them back to each other, and to the magic they couldn't escape. A delicious novel about witches and real love, family life and everyday spells. A literary incantation.
I had watched the movie with Sandra Bullock and Nicole Kidman years and years ago and remembered enjoying it immensely. It was probably some time ago though that I learned that the movie was based from a book (don't know why it took me that long to establish that). Well, I finally got a copy of the book and decided to start reading it yesterday…all through the night…and finished it today. I just couldn't put it down! Contains some spoilers ahead!
For starters, yes, the movie is different in a number of ways from the book. The book is really about the Owens women down three generations: Frances and Jet (the aunts who appear at the beginning and at the end of the novel), Gillian and Sally, and Antonia and Kylie. This book is also a lot more than just the magic (and all things related to it) that the Owens women are capable of harnessing and such. The story delves into the inner lives and struggles, their dreams and their fears, joys and sorrows that they live with. It explores the delights and the dangers of love, many of which affected Gillian and Sally in a major way when they were younger and thus influenced many of the decisions they made concerning love when they were older. It also explores them theme of family, the squabbles you get into occasionally with your siblings and the adventures of adolescence. I love that this novel touches on all of these issues while set in a novel where magic can be real, however subtle it is.
Gillian and Sally, however unique their circumstances are concerning magic, are multi-faceted characters that are relatable on some level. I personally related a lot more with Sally: the oldest daughter, always trying to do what's right, being responsible. She's the cautious, thoughtful one, to the point that she can't bring herself to act on her emotions. Part of this is of course due to the clients that her aunts used to help with their love woes. I really felt for her at times because she's always so strong and steady for everyone else–Gillian, her children, other people–that people seem to forget that she too wants to be cared for. Gillian's journey was far more extreme, given her wild lifestyle to her abusive relationship with Jimmy to her recovery and entry into a loving, healthy relationship with Ben. Growing up, she's tested her limits, wanting to escape, and yet underneath her bold exterior is a woman with low self-esteem thanks to the taunts she endured growing up and further heightened by Jimmy's abusiveness. Her journey was realistic and I like that we got to witness her overcome everything bit by bit.
The supernatural elements of this novel also heightens the story and gave it a particular flavour, especially concerning Jimmy and the aftermath of what happened. It was really creepy how the lilacs just kept growing in the backyard, smelling like their aunts' home. What was especially creepy was how Kylie, gifted with premonition, can see Jimmy's ghost and the blood-red aura of the lavender. I'm glad that nothing happened to her because I really was freaked out for her during those times that she saw him and she was all alone in the house. But other than that, the magical elements are not flashy or anything, rooted in different herbs and recipes and particular actions.
Overall, I highly enjoyed the novel (considering I just could not put it down!). Everyone got their happy endings in the end, but their journeys over the course of the novel are realistically drawn out and not in any way rushed. Maybe I wished we had a bit more scenes between Sally and Gary since they had the least amount of time in the novel but otherwise the pacing of the story was great. I highly recommend this novel to anyone into supernatural-themed novels or novels about multi-generational women and their stories.
Rating:
Check out the author's official website || Order this book from the Book Depository

Tags: