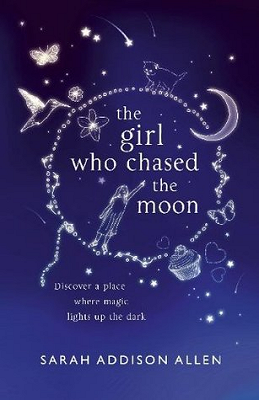 The Girl Who Chased the Moon
By: Sarah Addison Allen
Emily Benedict came to Mullaby, North Carolina, hoping to solve at least some of the riddles surrounding her mother's life. Why did she leave her hometown so suddenly? Why did she vow never to return?

But in a place where unexplained lights skip across the yard at midnight, where the wallpaper in your bedroom changes so suit your mood, and where a neighbour bakes hummingbird cakes in the hope of bringing back a lost love, Emily will find that the answers are not what she expects…
I first stumbled across Sarah Addison Allen and her works in a list on GoodReads about books containing magical realism. There's something magical about the covers associated with her books, so naturally I was curious about them. I decided to start with this book because a) I love the title (anything celestial immediately grabs my attention) and b) the story sounded really magical. May contain minor spoilers ahead!
I've read other books with elements of magical realism in it–Gabriel Garcia Marquez, Isabel Allende, Louis de Bernieres, etc.–but this was the first time that I read a book with these elements set in North America. Allen does a wonderful job in weaving this sense of the fantastic and of magic into this small town of Mullaby in a way that really seems like something you'd see everyday, nothing out of the ordinary. It also really adds to the charm of the setting in which this story takes place and it really feels like a real place, which is great.
What really made the novel enjoyable for me was the characters. While Emily in a way is the heart of the story and the reader's way into the lives and times of the residents of Mullaby, there's a whole array of other characters involved in this story; some of them have stories directly tied in with Emily while others have their own personal stories happening in parallel. I was especially engrossed in Julia's story, how she's determined to cut ties with Mullaby as soon as she is able to sell the restaurant and how complicated growing up was for her and how those experiences had made her stronger, tougher and also harsher (despite of all the wonderful cakes she bakes). I enjoyed how each of the characters involved with Emily and Julia's stories had their own POV moment where readers got to hear their side of the story and ultimately how flawed they are in their own way. It not only makes them three-dimensional as characters but it also keeps them interesting and, for me, charming in their own way.
Amidst the variety of characters and the magic of the location, Allen weaves a series of themes directly tied into these characters' experiences: themes of family, one's dreams and plans for the future, reconciling with the past, finding love, growing up. I liked how, over the course of Julia's story, she begins to reconcile herself with what happened in the past and to overcome the hurt from before finally "coming home" and being with Sawyer (who is adorable and suave without being too stereotypically hot and suave). Emily's story about overcoming other people's expectations of her and discovering her mother's past was also very interesting; I really felt bad for her as people looking at her strangely over the course of the novel because of who her mother was and what she had done. Everyone we meet in this novel comes out learning something (more or less) and has their story wrapped up in a sweet way that's satisfying as a reader.
It's hard to say much else without spoiling the entire book and this is definitely one book worth reading. Overall, this novel was immensely charming and I really grew fond of these characters over the course of the novel. I also could not put this book down! I stayed up real late just to ready about what was going to happen to everyone. It was truly quite a magical read (definitely one of my top favourite books now!) and definitely a great book to start with from Sarah Addison Allen. I look forward to reading her other books =)
Rating:
Visit the author's official website || Order this book from the Book Depository

Tags: