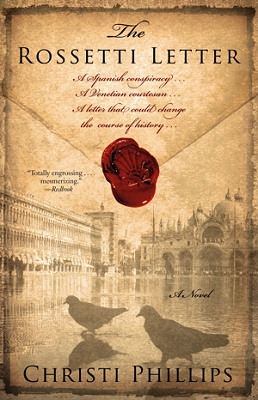 The Rossetti Letter
By: Christi Phillips
Claire Donovan always dreamed of visiting Venice, though not as a chaperone for a surly teenager. But she can't pass up this chance to complete her Ph.D. thesis on Alessandra Rossetti, a mysterious courtesan who wrote a secret letter to the Venetian Council warning of a Spanish plot to overthrow the Venetian Republic in 1618. Claire views Alessandra as a heroine and harbors a secret hope that her findings will elevate Alessandra to a more prominent place in history. But an arrogant Cambridge professor is set to present a paper at a prestigious Venetian university denouncing Alessandra as a co-conspirator — a move that could destroy Claire's paper and career.

As Claire races to locate the documents that will reveal the courtesan's true motives, Alessandra's story comes to life with all the sensuality, political treachery, and violence of seventeenth-century Venice. Claire also falls under the city's spell. She is courted by a handsome Italian, matches wits with her academic adversary, bonds with her troubled young charge, and, amid the boundless beauty of Venice, recaptures the joy of living every moment….
I forgot how I came across this novel but it had been sitting on my want-to-read list for so long at GoodReads that I finally decided to pick it up a few months ago xD I've chosen this novel for the I Love Italy Reading Challenge that I am participating in. Contains some spoilers ahead!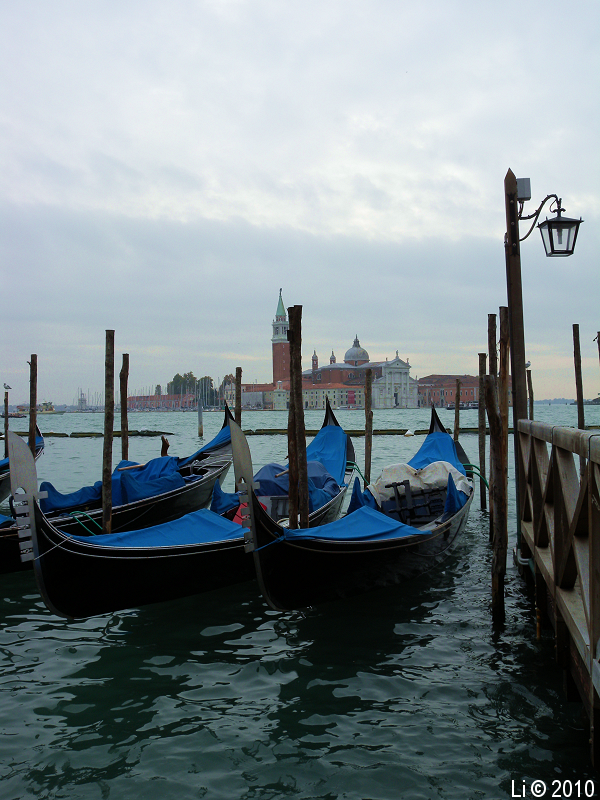 What really struck me while reading this novel was how Phillips brought seventeenth-century Venice to life in the historical side of the story. Reading about the streets and waterways and some of history of the buildings reminded me of my time in Venice (it was sadly only a day trip but it was still a lot of fun and very insightful). Through Alessandra's eyes, the reader experiences the perils of the seventeenth-century for mariners, people in key positions of power and women who are without male members of the family to protect them or a considerable fortune to survive on. Alessandra strives to find a sense of independence in her life hence when her father and brother dies in a marine accident, she turns to becoming a courtesan, refusing to turn to the convent to survive. Through choosing this profession, she is able to not only gain an income to survive but also draws closer to more powerful men. It was interesting to see how they were able to survive and move through the upper levels of society the way that they did, but unfortunately these were merely glimpses; there were only a few instances where you see La Celestia actively engage in the political and social machinations of the Doge using whatever means and influences were available to her. Additionally, we do not see much of Alessandra's life or the other effects of her profession beyond her involvement with the Bedmar, the ambassador from Spain. While this makes the plot relatively compact and to the point–no tangents or long, drawn out scenes that do not add to the plot–it would have been interesting to explore more into Alessandra's life. Despite of this, the historical side of the novel was very interesting to read, and it was quite sad to see how everything turned out.
The flip side of the novel takes place in the present day, focusing on Claire Donovan who is trying to finish her dissertation. I related a lot with Claire because of her academic interests and passion for history. While she was an interesting character with a bit of baggage, her story took a while to pick up. It also became aggravating for a time when she picked up Gwen, the department head's daughter, whom she was left to chaperone in exchange for funding to go to Venice to hear a professor's lecture on the same topic as her dissertation. Gwen obviously had some of her own issues to sort out, but could she have been any more annoying/sullen in the beginning (which prompted the thought in my head whether I've come across a teenager in literature who's not going through some serious angst)?! I felt bad for Claire in having to chaperone her, I also would have no idea how to watch out for her if I were in the same situation. But Claire's story takes a turn for the interesting as she gets to know Gwen a bit more, meets a handsome Italian and butts heads with the rude Englishman whose research coincides with her own; I rather enjoyed her scenes with Andrew because they remind me a little of Elizabeth and Darcy from Pride and Prejudice but in an academic setting.
The unravelling of the mystery behind Alessandra Rossetti's involvement in the Spanish Conspiracy was interesting and started playing a major role two-thirds into the novel. It completely slipped my mind concerning her involvement to the present-day storyline concerning the research/dissertation because for a good while, the reader actually knew more about Alessandra's life and how the gradually became caught up in the larger political schemes of the day. But the novel certainly became a lot more quick-paced when the mystery started unravelling and the pieces started falling into place.
Overall, The Rossetti Letter was an interesting read, a little lighter on the mystery/two stories tying in together, but nonetheless fascinating. I enjoyed the historical side of the story for the way it brought seventeenth-century Venice to light. When Claire's story picked up, I highly enjoyed it, both for its academic setting but also for the character interaction and the pursuit of Alessandra's story. I wished the novel had expanded more in the historical side of the story (not to mention bring a bit more closer to Bermur's character; there was one section of the novel that was written in his point of view but was never revisited again) but I enjoyed the fact that the author left it open enough for other novels to follow featuring Claire. I'd recommend this novel for people who enjoy a historical mystery and for readers who enjoy novels set in Italy.
Rating:
Visit the author's official website || Order this book from the Book Depository

Tags: