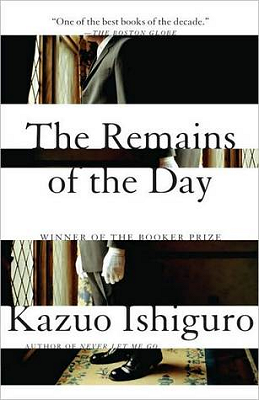 The Remains of the Day
By: Kazuo Ishiguro
It is the summer of 1956 and Stevens, an aging English butler, embarks on a holiday that will take him deep into the countryside and into his past. For the first time in three decades, Stevens looks back on his long life of service and finds himself confronting the dark undercurrent in the life of his previous employer, Lord Darlington, and his own conflicted relationship with the housekeeper, Miss Kenton.

A contemporary classic, The Remains of the Day is Kazuo Ishiguro's beautiful and haunting meditation on life between the wars, love denied, and the high cost of duty.
I actually read this book some three years ago but I decided to re-visit it (as part of my great re-readathon this year), especially as I've been (every so slowly) watching Downton Abbey lately. Contains some spoilers ahead!
I think what struck me first and foremost–and perhaps what I admire most about this novel–is the narrative. This novel is told in first person, from the point of view of the main character, Mr. Stevens, as he recounts his career as a butler in Darlington Hall and some of the key events that occurred over th course of the years. Ishiguro never wavers, never falters in writing through Stevens' perspective; his dialogue is very much in keeping with the times, right down to the amusing comedy of manners that takes place here and there in the story. I also great enjoyed how personable–if that's the word to describe this–Stevens is in recounting his memories; it's as though he's sitting in front of you and just talking to you. It certainly makes for an interesting narrative; the story is not necessarily completely linear as a regular novel, but it makes the story even more effective and evocative that way.
Story-wise, it is a little slow, but given the nature of this novel it's understandable. The Remains of the Day is more of a quiet reflection of one's life rather than there being an actual active plot. Stevens reflects on his profession and the sacrifices he made to ensure that he was always in form, always proper within the bounds of his responsibilities. As a result, he missed out on many crucial moments such as being there when his father passed away and pursuing a romantic relationship with Miss Kenton. Additionally, his staunchness to uphold his duty in the manor left him not only awkward and behind in regular social interactions but also left him more or less blind to the larger things that were going on around him. For example, he failed to connect Lord Darlington's behaviour concerning Nazi Germany and the treatment of employees of Jewish descent. They seem trifling and inconsequential–such as the dismissal of the two housemaids–but together they raise alarms that Lord Darlington was a Nazi sympathiser. Even when other people granted him permission to speak his mind, he did not do so, choosing instead to remain in the veneer of his post. As a result, he seems rather out of place with the times, especially as the times are moving, changing and modernising.
Verily, this book captures that sense that things are changing in the world. The world of Mr. Stevens and Lord Darlington is indeed one that is still locked in the tradition of the late Victorians and Edwardians but as many pointed out throughout the novel–from the American Mr. Lewis to the young Mr. Cardinal–the times are changing and the world is not what it once was. Of course, their vision of what is modern and what is the norm varied but the fact that Lord Darlington was unable to adapt and kept to his principles left him blinded to the tricks and prejudices that he was facing. It's rather tragic in that sense because from the point of view of Lord Darlington–and Mr. Stevens–those values of dignity, duty and responsibility are core to who they are; they believe it must be maintained. Yet at the same time, you see what they had lost as a result of sticking to their values. Even Mr. Stevens found himself faltering a little towards the end about whether he did the right thing and if his work was still valued in a world where jobs such as being a lord's butler is becoming obsolete.
Reading this novel a second time, I'm pleased to pick up some nuances that I didn't find the first time around. I'm not sure why I didn't pick up on them the first time given that the prose was very clear and concise (I love their use of the English language back then; you just don't see that as much these days) but I think the reason I didn't notice the smaller things (such as the behind-the-doors politicking) was because we are witnessing these events from Stevens' point of view. He is not curious, he does not pry, so we don't really see a lot of the pressing issues that are hinted about but not directly witnessed. The relationship between Miss Kenton and Stevens was also another aspect that I did not fully grasp until I re-read the novel; because we are seeing the story from Stevens' point of view, the reader does wonder whether there was something there or if they really just had a strained friendship. Because the story is zoomed in to a few key memories, we don't see the full progression of their relationship but it is complex and something was there–Stevens' steadfastness to his duty merely kept him from truly realising what was going on.
The Remains of the Day is a subtle but astonishing novel about nostalgia (which is plenty abound in this novel), the changing times, duty and personal reflection in the early twentieth century. This is one of those few books where I wholeheartedly agree that the novel deserves the awards that it received. Ishiguro did an amazing job in embodying and presenting Stevens' point of view and the sense of the time was utterly flawless. Fans of Downton Abbey and readers of historical fiction will surely enjoy this novel.
Rating:
Read the author's biography on the British Council website || Order this book from the Book Depository



Tags: