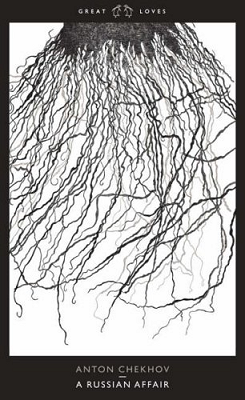 A Russian Affair
By: Anton Chekhov
Love can be impossible…

When Gurov sees the lady with the little dog on a windswept promenade, he knows he must have her. But she is different from his other flings – he cannot forget her. Chekhov's stories are of lost love, love at the wrong time and love that can never be.
I recently got around to reading a few of Chekhov's stories, which were rather enjoyable. Unlike Dostoevsky, who is a genius in expressing core issues in Russian society and creating these complex psychological chaacters, Chekhov is more approachable while still tackling these larger issues (both exterior and interior). This book came to my attention sometime last year after hearing that Penguin released their 'Great Loves' series; however, I had put it off for a long time, then afterwards found that I couldn't purchase it readily in the bookstore. Well, I finally got a hold of a copy, which is great (and in time for that day that shall not be named) =)
This volume is only 119 pages long but it actually contains 5 short stories, each more or less tackling different aspects of love: long lost love, unrequited love, momentary love, love that grows and strengthens despite of distance and years. Chekhov also manages to throw in the quintessential Russian themes of social issues and existentialism, mentioned briefly here and there by characters to denote the society and times in which they lived in; this was especially the case in the story of "The House of the Mezzanine." They're all wonderful stories, not necessarily with happy endings, but they do dwell on the questions about love and how it affects one's life, whether it be for a long period of time or only for a short while. It was also interesting to see how one small action would change the overall course of one's relationship with another and one's chances at happiness with another person.
There's not much for me to say otherwise about the stories; they bring you to the heart of the story fairly quickly, though they also tend to end rather quickly as well (save for maybe, two of the stories). The simplicity of Chekhov's prose comes through, rendering his work easily accessible. If I had to choose, I think "The House of the Mezzanine" was my favourite of the five because it was the one that really grappled as big a scope as it could of Russian society during Chekhov's time while portraying a moment in which the two lovers find each other. I highly recommend this volume if you're into Chekhov's works or if you're looking for a good introduction to Russian classical literature.
Rating:
Read about Anton Chekhov on Wikipedia || Order this book from the Book Depository



Tags: