I was reading an article on social networks for writers when the topic of writing tools came to mind. Participating in National Novel Writing Month really made me realise how writers use different tools to get through the writing process. Some use particular programs such as yWriter and Scrivener to get the job done.
As for me, well, I'm a little more old school, so I've been using the following as part of my writing process (feel free to click on the images to make them larger and to read the additional captions):
#1 – NOTEBOOKS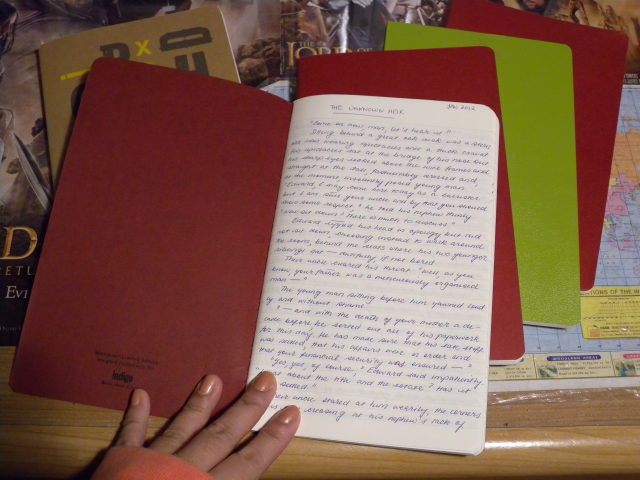 It's faster to write a draft directly on to word processor (so I've learned during NaNoWriMo), but if given a choice, I'd still opt to write my first draft on paper. I have first drafts to maybe three or four novels sitting in my closet in stacks, waiting to be revised (if ever -_-;). I actually did this too with my MA thesis so it's really my thing. There's just something about writing it down by pen; I feel like I'm more in control, if that makes any sense whatsoever. In the photo above are my Moleskin notebooks, which I've been using to write my shorter fragments/short stories. Sure, Moleskins are a bit more pricey than regular notebooks but when I write in these notebooks, I really feel like a writer. Is that strange?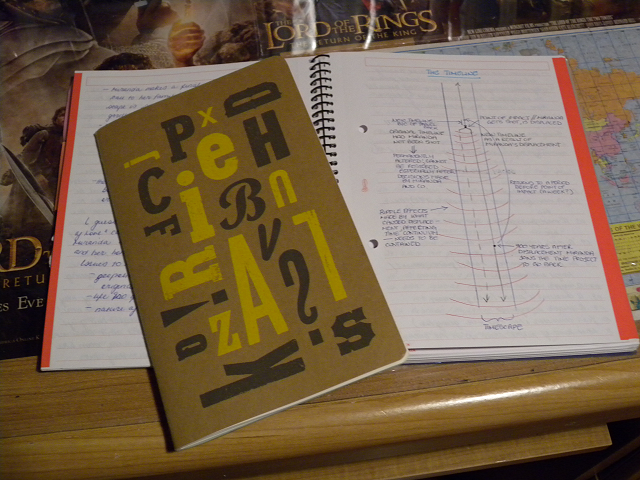 Ahh, the other notebook, a.k.a. my writing log/random odds and ends research. It's very handy because whenever I come up with a story idea, I quickly jot it down here before I forget (though I also put sticky notes in my Moleskins if my fragments have a potential of becoming full-length novels). I also use it to put down whatever rambling thoughts I have so that I could work on them in a more concrete manner. I also put occasional research notes in here (for example, there was actually a page after the one I featured in the second photo about the different theories of time travel). It's pretty handy.

I forgot how I discovered this magazine, but it's absolutely brilliant with a lot of useful information about publishing and advice about the writing process. You can also check out their website.

#4 – WIKIPEDIA
Okay, I technically shouldn't be listing this website since in academia we always tell students not to cite from it. However, it is still a very useful website if you're just randomly picking up information (beyond information about your favourite television show =P). I also cited it on my post about useful websites for putting together travel itineraries. I mean, where as can you find quick information about Spanish naming customs or the different theories about time travel? Of course, I go beyond this afterwards but it's a good jumping point if you're in the preliminary stages of the writing process.

#5 – FIGMENT
Figment is a new social network for aspiring writers. What I especially like about this website (I signed up but I haven't really participated in the forums or anything) is the Daily Figment Themes. If you sign up, you can receive daily writing prompts into your inbox, which is really useful especially if you're like me and have been suffering from a serious case of writer's block.

#6 – NANOWRIMO
Although I only was able to participate for the first time last year, I found NaNoWriMo to be a very useful website for its advice on starting with the writing process, discussing with other fellow writers about the writing process, and extra information about other online writing events. I still drop by on occasion to re-read some old pep talks as well as the extra details about other events. Oh, and as a bonus, there's Chris Baty's No Plot? No Problem! book. I bought it last year right before NaNoWriMo started and it was rather useful as a pep talk during the writing process. No doubt I may have to go back and read some parts again as I set off on my next writing project.

And there you have it, some of the tools I've been using throughout my writing process (and Microsoft Word, but I guess that's a given? Though to be honest, I haven't quite used it since NaNoWriMo other than for writing scary-sounding cover letters). To all of you writers and aspiring writers, what do you use to write out your projects?

Tags: