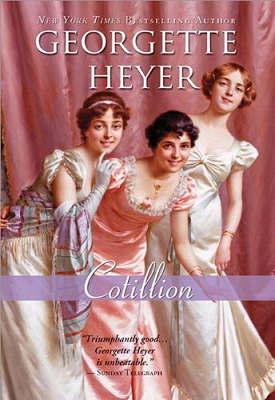 Cotillion
By: Georgette Heyer
Freddy is immensely rich, of course, and not bad-looking, but he's mild-mannered, a bit hapless–not anything like his virile, handsome, rakish cousin Jack…

Young Kitty Charing stands to inherit a vast fortune from her irascible and eccentric guardian-provided she marries one of his great-nephews…

No sooner does Kitty arrive in London then the race for her hand begins, but between confirmed rakes and bumbling affections, Kitty needs a daring scheme …
I've heard a good number of things about Heyer's Cotillion so I decided to read it (despite having Sylvester waiting on my eReader for a much longer period of time). Once again, Heyer manages to spin together a light-hearted romp through Regency England with this delightful set of characters and a crazy scheme…Contains some mild spoilers!
Once again Heyer does a fantastic job in portraying such an interesting family dynamic with the miser Matthew Penicuik and his various grand-nephews: Jack Westruther (the handsome rake), Lord Dolphinton (adorable, hilarious but pretty much a simpleton), Reverend Hugh Rattray (the stuffy one) and Frederick Standen (the mild-mannered, fashionable man about town). There were two others, Claud and George, but they were only in one scene at the very beginning and never made an appearance afterwards. Having most of them in the same room, which actually happened once at the end, was a hoot–you can tell who doesn't like who and what one thought of the other. If the book was focused more on the men than on Kitty's schemes and adventures, it would still make for an entertaining read. Freddy's family was also great fun to see, especially his father who despite of appearances doesn't miss much; I great enjoyed Freddy's moments with his father. The Dolphinton's mother was a source of humour in that all of her nephews were afraid of her (and would mention it to each other every so often, which I found amusing) but at the same time she was quite a mean woman herself; I genuinely felt bad for Dolph and his situation.
Kitty was an interesting heroine for this novel who knows what she wants but at the same time is quite a kind and caring person. It's interesting that such a character would concoct a plan to try and get Jack's attention while getting back at her uncle for putting such a condition to her inheritance. The chapter when she employs Freddy's help in the whole scheme was good fun. It was fascinating to read how she manages in London since it was her first time visiting town and it was hilarious fun to see how she and Freddy keeps up the image of their so-called engagement.
But I'm inclined to agree with others that Freddy is the real hero of the story. When the reader is first introduced to his character, he's a bit of a poof (for lack of a better adjective): he's very much in the know about what's fashionable in town and isn't inclined for great schemes and plans but out of the goodness of his heart (and his inability to tolerate weeping women), he goes ahead with Kitty's plans. But as his father is first to notice, Freddy's "engagement" sparks a change in him; he starts acting less aloof and becomes more thoughtful about the people around him. He put up taking Kitty around town and checking out the various tourist spots, despite the fact that it bored him considerably. Soon enough he was helping Kitty help her friends through some difficult obstacles, taking in her confidence and even extracting Kitty from some uncomfortable situations. Even he starts wondering how it came to be that he was the one managing certain household affairs and was the one to help people out of situations. By the end of the novel, Freddy comes out as the man you could rely on and even overcomes some of his mild-manneredness when it came down to the things that was important to him. His character development was subtle but interesting; I was rooting for him at the end.
I think that's what I loved the most about Kitty and Freddy's relationship: they were friends first and over time they've come to confide in each other more and more, to the point that at the end they were able to trust each other without consultation as Kitty rushed off to help Dolph and his loved one and Freddy ends up helping Olivia and Camille. And Freddy coming in to save the day when he noticed that Kitty made no mention of the special marriage license really closed the deal there.
What also surprised me about this novel was how detailed the subplots were in this novel. Rather than focusing on Kitty's hijinks (unlike other Heyer heroines, she actually doesn't fall into very many of those save for small trifles over whom she socialised with and whatnot), the subplots involves the people she meets as well as her own family: Dolph wanting to marry Hannah but fearing his mother's cruelty, her new friend Olivia falling for Kitty's cousin Camille, Meg's little escapades around town and Jack playing his own little game with Kitty and facing off with Freddy. The craziness is quite abound in this novel, which was fun, especially because at some point earlier in the novel I wasn't quite sure where the story was heading.
Overall, Cotillion is another fantastic bout of fun in the Regency period. The characterisations were realistic and the character interaction was just fantastic to read, as always. If anything, I wished we saw Freddy's parents more before they left because their scenes with the main characters were a lot of fun. Another winner!
Rating:
Read about Georgette Heyer on Wikipedia || Order the book from the Book Depository



Tags: