Happy New Year again to you all! Well, I'm starting the new year with not one, but two book reviews, having finished two books I had been reading for the past few days xD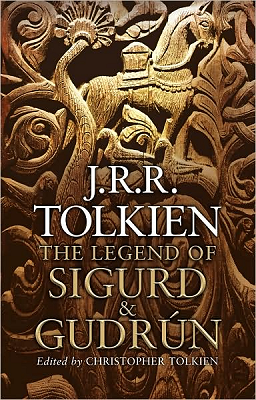 The Legend of Sigurd and Gudrun
By: J.R.R. Tolkien
Many years ago, J.R.R. Tolkien composed his own version of the great legend of Northern antiquity, recounted here in The Legend of Sigurd and Gudrún.

In the Lay of the Völsungs is told the ancestry of the great hero Sigurd, the slayer of Fáfnir, most celebrated of dragons; of his awakening of the Valkyrie Brynhild, who slept surrounded by a wall of fire, and of their betrothal; and of his coming to the court of the great princes who were named the Niflungs (or Nibelungs), with whom he entered into blood-brotherhood.

In scenes of dramatic intensity, of confusion of identity, thwarted passion, jealousy, and bitter strife, the tragedy of Sigurd and Brynhild, of Gunnar the Niflung and Gudrún his sister, mounts to its end in the murder of Sigurd, the suicide of Brynhild, and the despair of Gudrún.

The Lay of Gudrún recounts her fate after the death of Sigurd, her marriage against her will to the mighty Atli, ruler of the Huns (the Attila of history), his murder of her brothers, and her hideous revenge.
This is actually the first of a number of books that I will be re-reading from my bookshelf over the course of the year. I mentioned this on GoodReads but Ias in the mood to read something epic so I decided to re-read this book. I also figured that watching 'Thor' last week was probably the reason behind my mood for something Scandinavian xD
I remember when I read this book a few years ago that I wasn't entirely sure what was going; I was not entirely familiar with Norse mythology beyond the very basics—in fact, I still don't entirely know a whole lot from their lore—which made the reading process rather cumbersome. I did not expect it to be set up in verse, as opposed to prose, and there was a lot of material in the book that just flew over my head. Of course, I'm not an English or Anthropology major, so a lot of the details still escape me, but re-reading it this time around made me appreciate the book a lot more. I can see why some people were disappointed in this book because it was marketted a little differently; this book is more academic than pure entertainment. It shows a totally different side to Tolkien, one that is more interested in reconciling differing tellings of certain Norse stories and creating his own vision of the stories. The depth of his understanding of the field and the stories and his love and knowledge of the language itself shines through here; this is his element and as someone who has dabbled in academia for some time, it's something to really appreciate.
It was also an enlightening read because I could see where Tolkien got some of his inspiration for what became Middle-Earth and the stories told in The Lord of the Rings, The Hobbit, and so forth: dwarves, elves, a place called Mirkwood, Brynhild the woman warrior determined to marry only a king, etc. But despite of that, it is trully Scandinavian. Reading it takes some reorientation; it might not sound right when you say it out loud but that's probably the way it flowed had it been in the original language (the tricky issue of translation). The text doesn't seem like there's much yet so much drama is contained in it, it was rather surprising.
Overall, it was great to re-read it again, it was definitely an interesting experience the second time around. If you're looking for adventure like in his other books, you may be disappointed; this is certainly a book that needs to be read slowly to really appreciate and understand what Tolkien was trying to get at with this work.
Rating:
Visit the estate's official website || Order this book from the Book Depository



Tags: