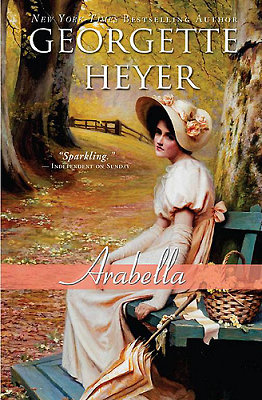 Arabella
By: Georgette Heyer
Arriving in London to make her debut, Arabella Tallant, the eldest daughter of a penniless vicar, finds herself pursued by amorous fortune hunters, including London's most irresistible bachelor.
Switched gears once again to read a light-hearted, fun Heyer novel =D She's seriously become my go-to read when I want something light and fun to read for a change. Arabella has been one of my latest purchases for my eReader and it's been quite a ride xD Contains some spoilers!
As I've mentioned in previous reviews on Heyer's novels, her books focus a lot on Regency society and various aspects of how people interacted with one another, "popular" culture, fashion, etc. This volume in particular focused a lot on what was fashionable to wear at the time, from Sophy's (Arabella's sister) endless talk about what was deemed fashionable according to the latest magazines to Mr. Beaumaris's trend-setting outfits. It was especially interesting because the novel also mentions outfits that went out of fashion and the girls' dismay that Arabella would have no choice but to wear such outfits.
Another theme that is regularly discussed in Heyer's (and Austen's) novels is that of courtship and marriage, though in this novel this theme takes a particularly prominent role. As we know from reading Austen's works, finding an eligible suitor for marriage was a major issue for young women during this period as their stability and life comforts very much depended on finding a suitor who can provide such comforts and sustain their reputation in society; the higher up in the social scale you are, the more important the latter becomes. In Arabella, you see many men flocked around Arabella, flirting with her in hopes of marrying her for her supposed wealth; in this case, it's especially interesting to see that the opposite is very much true as well. This novel especially shows how vicious the process can be, with pretenders and exaggerators all abound. Arabella is smart enough to know who is tricking her and only after her for her supposed wealth, but it can be tricky when it comes time to the people who are sincerely after her hand.
What struck me about this book was some of the parallels with Jane Austen's works. Heyer's books are often associated with Jane Austen's works because of the period in which her novels were set in as well as the type of society that her characters often engage in. This is the first novel however where I distinctly felt some of these associations, though I think Heyer did not mean to draw such parallels. For example, the domesticity of the Tallant household at the start of the novel, with Arabella's many brothers and sisters bustling in and our with their own unique personalities, reminded me very much of Northanger Abbey with Catherine Morland's large family. Another parallel that struck me was Mr. Beaumaris's (second) proposal to Arabella at her ball and told her that his affections were the same as before and that a word or look would silence him on the matter, a speech that was akin to Mr. Darcy's speech to Elizabeth Bennett in Pride and Prejudice. I thought these two instances of similarities was rather amusing.
The plot itself was amusing; I especially enjoyed Arabella's scenes with Mr. Beaumaris and his gradual falling in love with her. Unlike The Convenient Marriage, the latter was much more fleshed out and gradual. The gradual transformation of his character from a haughty and cold individual to a considerate and kind one was especially entertaining to read, as he stepped in to employ Jemmy the ill-treated chimney-sweeper to the adoption of the dog Ulysses (his scenes with the dog are especially amusing because it was clear that he doesn't really like pets). I kind of wish she had told him of the truth of her economic circumstances before coming up with the idea of marrying him, but I'm relieved that Mr. Beaumaris loves her nonetheless and that he found her attempts at keeping up appreances amusing.
The only part of the novel that I think bore me a little was concerning Bertram's gambling issues. From the moment he showed up in London, telling Arabella that their parents didn't know where he was, I knew he was going to be a bit of trouble. His story is necessary for the progression of the plot and the romance, but I was more interested in what was going on with Arabella's end and Beaumaris.
Overall, this was another enjoyable novel by Heyer, filled with great character moments and information about the period (the last chapter of the novel was especially cute! xD). Definitely a novel to check out if you're into the genre!
Rating:
Read about Georgette Heyer on Wikipedia || Order the book from the Book Depository

Tags: